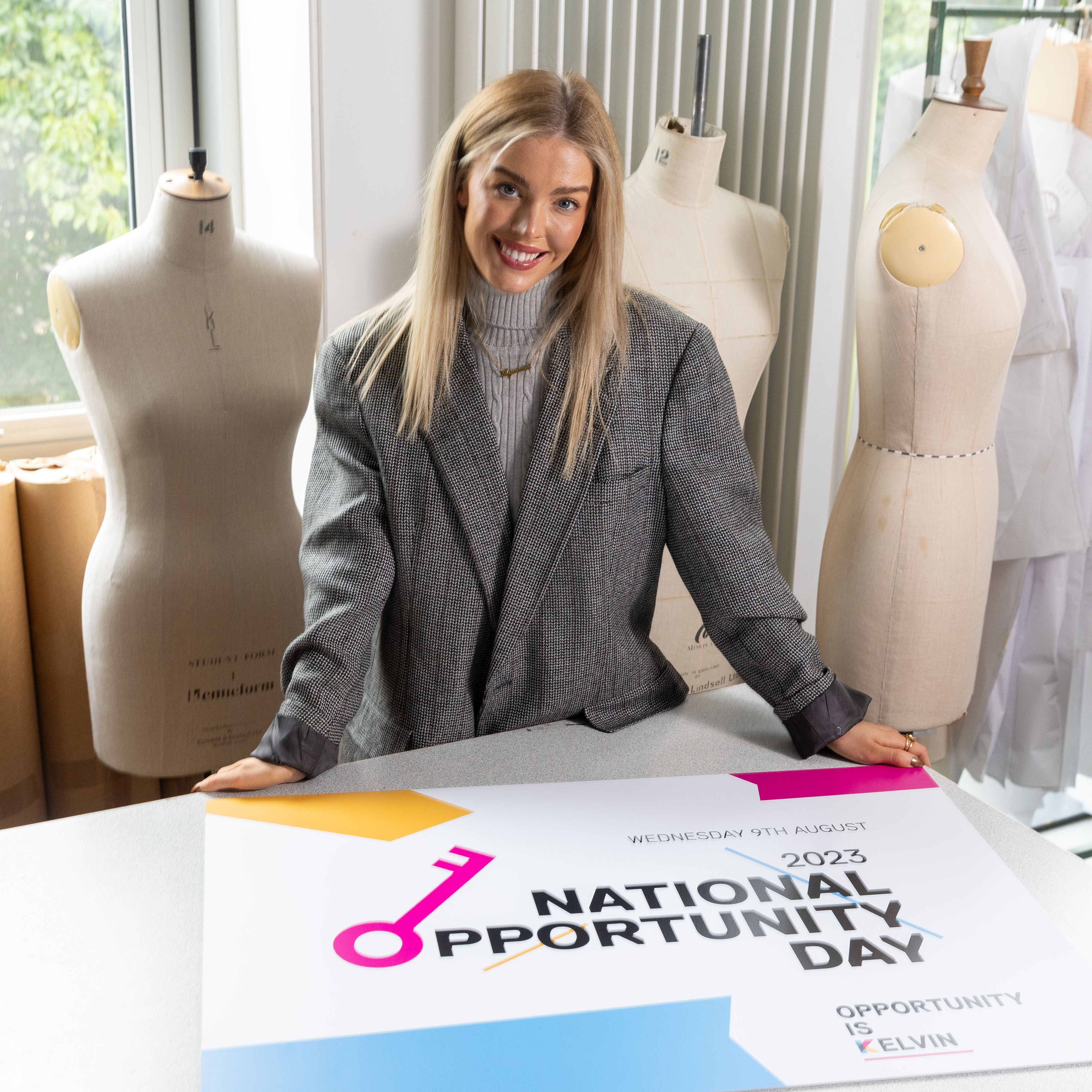 Glasgow Kelvin College launches new awareness day to celebrate further education opportunities
Posted 03.08.23 by Alice Hinds
With results day approaching, Glasgow Kelvin College has registered an official awareness day to help school leavers discover what's possible during the clearing process.
Taking place on Wednesday, 9 August, the inaugural National Opportunity Day will see the college open its doors to people of all ages and stages, allowing potential students to explore what courses and qualifications could be open to them after receiving their exam results.
Students across Scotland will receive exam and assessment grades on Tuesday, 8 August, with the clearing process (click here for more) beginning the same day – and Gary Sharp, Student Support Services Manager at Glasgow Kelvin College, says school leavers and career changers alike should keep an open mind and look at all the options available.
"Speaking to prospective students and making them aware of all the opportunities available to them is always the best part of my job, as very few people really understand what's possible," he explained. "Results day is clearly an important day for many, but it's not the end of the road.
"Regardless of whether you've just received your exam results, or if you're 10 years into your career, there are a wide variety of different trades, industries, and professions available."
National Opportunity Day is backed by award-winning fashion designer Siobhan Mackenzie (click here for more), who studied fashion design and production at the college, and has since designed kilts for the likes of Justin Bieber and Team Scotland for the 2022 Commonwealth Games.
"My skill set learnt in college has crucially prepared me for industry and has given me the knowledge needed to forge a career in my field," said Mackenzie. "It was hard work but I'd do it all again in a heartbeat. I'm very proud to have gone to Glasgow Kelvin College and I hope this will open people's eyes to the possibilities available at the college."
Glasgow Kelvin College will hold its annual Open Day as part of National Opportunity Day, with advice and guidance teams on hand to help guide visitors through the wide range of subjects available, including HND, HNC and degree qualifications, access courses and City & Guilds programmes.
Sharp added: "College creates the workforce of the future, embedding practical skills that will stand the test of time. Whatever your passions, skills or interests, there's a place for you at Kelvin, and an opportunity waiting to be seized.
"We are passionate about supporting students to make 'non traditional' choices, such as the excellent career opportunities for women in STEM, and men entering childcare, caring and nursing professions."
For more information, click here to visit the Glasgow Kelvin College's website: www.glasgowkelvin.ac.uk/courses