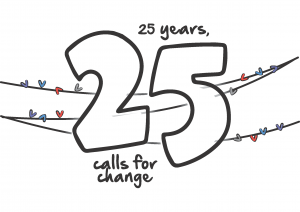 25 Calls to change children's lives for the better
25 Calls was a campaign marking the 25th anniversary of Children in Scotland. Launched in autumn 2018 and running for 18 months until March 2020, it brought together voices from across the sector to propose how children could experience greater equality and strengthened human rights.
This took the form of 25 calls focusing on policy, practice, legislation and changes in social attitudes, published in our magazine, online and shared at an anniversary networking event in Edinburgh. We then published multiple responses to the calls from partner organisations and individuals in support of the campaign.
From summer 2020, four blogs were published as part of the '25 & Up' series, revisiting calls on the topics of family support, the role of the arts in children's lives, the impact of poverty, and the need for a strengthened children's sector workforce.
Through the campaign:
93 organisations and individuals endorsed and published response blogs on our website and in our magazine
70 MSPs added their names to a Holyrood motion supporting the campaign
Two local authorities used the 25 Calls campaign as the basis for updating their equalities policies.
Some of the calls link to and inform our policy work and our Manifesto for the 2021-26 Scottish Parliament.
Information about the campaign, media coverage, a short film from members of our children and young people's advisory group, and links to all the calls, follow-up blogs and a special edition of the magazine featuring the 25 Calls, can all be found on this page.
---
October 2018:
We are in a unique and exciting position as the national membership organisation for the children's sector in Scotland, and our 25 Calls campaign is our roadmap for a future where children rights are protected.
The calls cover four themes:
Strengthening rights and participation
Supporting children, families and communities
Improving education, skills and learning experiences
Researching and creating the campaign calls, we spoke to people who work with children every day, researchers into children's development, charities who stand up for children's rights, schools and nurseries, parents and carers, and children and young people themselves. 
Follow #25Calls on social media, join our network and check this page to be kept updated on the calls, reactions to them, and the ongoing conversation about the campaign.
Read responses to the Calls
25 Calls is an ongoing campaign and we want it to include diverse voices from across Scotland.
Since the start of December 2018 we've been publishing responses to the Calls and these continued throughout 2019.
You'll find responses prefixed '25 Calls response' in our blogs section here:
Read news articles and other coverage of the campaign
Sustrans Scotland
Parenting across Scotland
Poverty Alliance
respectme
Community Justice Scotland
Independent Care Review in Scotland
Common Weal
Scottish Autism
Architecture & Design Scotland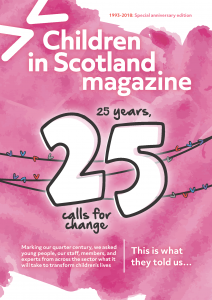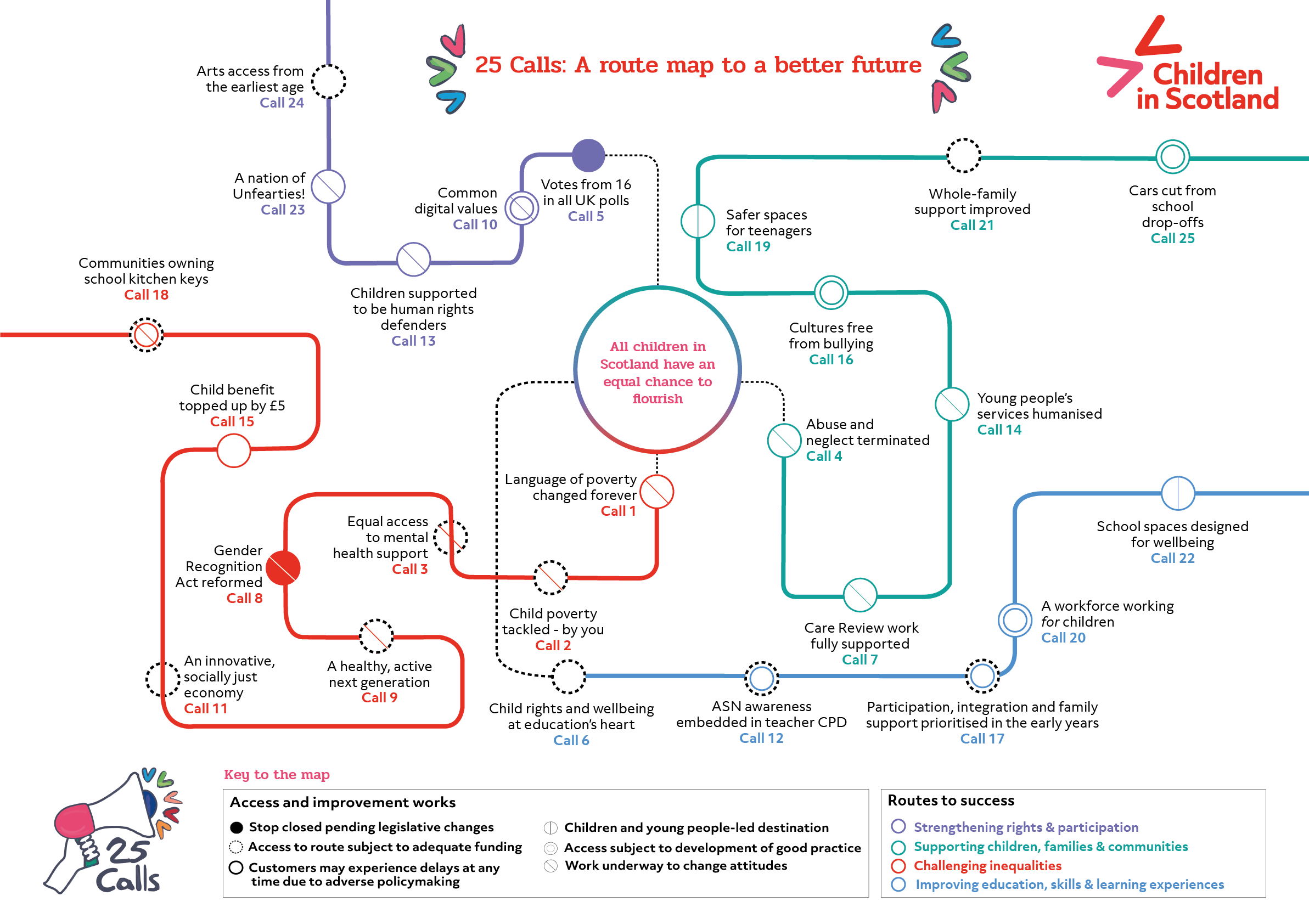 Special edition of our magazine
In the latest edition of our magazine, the 25 Calls campaign takes centre-stage, with articles from each of our 25 call-makers published in full.
Children in Scotland members can access the magazine by logging in to the members' section of the website.
If you are not a member, but would like to order hard copies of the magazine, you can do so here.
A route-map to a better future
Download our route-map to a better future for children and young people in Scotland.
The map includes all 25 Calls by theme, and highlights the possible delays and barriers those travelling from stop-to-stop may encounter.