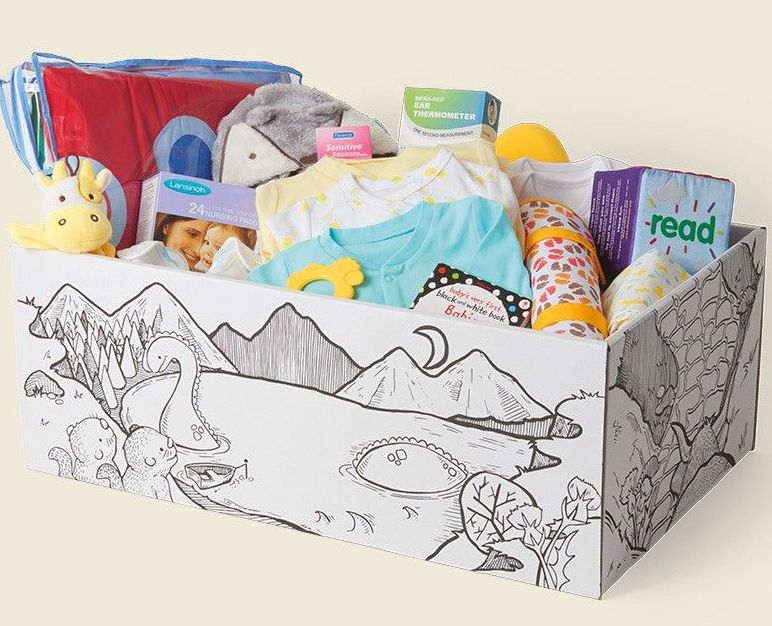 News: Scotland's Baby Box refreshed for five-year anniversary
Posted 1 July, 2022 by Jennifer Drummond
Scotland's Baby Box has been updated to include new clothing designs and a baby toothbrush to support early oral health as it approaches its five year milestone.
The Baby Box provides families with a range of essential items for the first six months of their baby's life. They are delivered in a sturdy box which can be used as a safe sleeping space during those early months. The contents of the box are designed to inform and support positive parenting behaviours.
Since the launch in August 2017, approximately 222,450 boxes have been delivered to families across Scotland with an engagement rate of around 98%.
Whilst on a visit to APS (Group) Scotland, where the boxes are packed and distributed, Scottish Government Children's Minister, Claire Haughey, said:
"As every parent knows, the costs associated with having a baby are significant. Household budgets are under increasing pressure from the rising cost of living, so it is reassuring to know that all families in Scotland, regardless of their circumstances, have access to essential items needed for the first six months of their newborn's life.
"Uptake for the Baby Box has grown to about 98% since it was introduced in 2017. As we head towards the fifth anniversary, I am proud that the Baby Box continues to support newborns and their families."
An independent evaluation of the Scottish Baby Box scheme, published in 2021, found 97% of the parents who took part in the research rated the box and its contents good. Parents were also positive in their assessment of how the box had benefited their family, both financially and in terms of wider benefits such as informing them about, or reinforcing, key child health and development messages.
The same review found the majority (88%) of health visitors, midwives and family nurses felt clear on the aims of the Baby Box Scheme although revealed a potential gap in training and understanding across a range of health professionals.
The Baby Box is available to every new parent in Scotland and can be applied for via midwives.
Click here to find out more about Scotland's Baby Box
Click here to access the Baby Box evaluation, conducted by Ipsos MORI Scotland