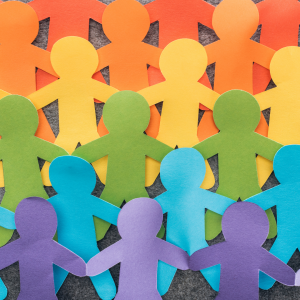 Charity announces LGBTQ+ social history project to capture young people's stories
Posted 27.04.23 by Alice Hinds
A new community archive project has been announced to document the lives of LGBTQ+ young people living in Scotland.
Launched by charity LGBT Youth Scotland, the (Un)Seen, (Un)Heard project will see young Scots come together to "capture, collate and conserve" their personal stories, creating an archive of experiences for future generations to learn from, share and enjoy.
Over the next three years, experiences of work, family, health, education and community will be documented through film, photography, audio and text, then shared through a national digital exhibition. Working in partnership with national archivists, the project will then be professionally archived to create an "accessible, engaging and enduring" resource, which represents the voices of young people around the country.
While a number of LGBTQ+ social history collections are already held by a range of organisations and museums throughout Scotland, the charity says few resources feature young people's voices. (Un)Seen, (Un)Heard will help to connect people of all ages and strengthen communities, while also informing current and future policymakers.
Announcing the project, the charity said: "We believe it is vital to capture the experiences of LGBTQ+ young people – an important part of recording the social history of the LGBTQ+ community in Scotland and considering where that experience is shared and where it is different from other young people.
"Additionally, the hard-won progress of LGBTQ+ rights over the past 20 years has been stalled by the current debate on the rights of trans individuals and this combined with the pandemic had led to a time-sensitive need. Young people tell us that being LGBTQ+ means they face barriers to achieving their full potential in education, work, relationships, and that Scotland does not feel like a safe and inclusive place to live, love or learn.
"We know that visibility gives a crucial sense of security and belonging to LGBTQ+ individuals and that it helps to destigmatise different identities in their wider community."
Celebrating 20 years as Scotland's national charity for LGBTQ+ young people, this month, LGBT Youth Scotland unveiled a new five-year strategy, co-designed with the Youth Reference Group (YRG). Informed by research and developed alongside young people aged 13–25, the strategic goals for the charity include changing lives through youth work, influencing change through young people's voices, and improving lives through partnerships and inclusive environments.
The future vision, the charity says, will be achieved through working with partners to create a more inclusive Scotland, where LGBTQ+ young people have better opportunities to belong, flourish and thrive.
Click here for more information on LGBT Youth Scotland website: lgbtyouth.org.uk