Magazine
Latest issue: June - July 2021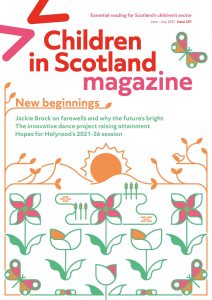 Issue 201
New beginnings
Click here to view the latest edition of the magazine
After a particularly harsh winter and an unpredictable spring, summer seems to finally be here. With it, we see nature showing us the promise and opportunities of a new beginning. Developing this theme, we consider what is next for Scotland and its children and young people, the children's sector  and for Children in Scotland.
In this issue we reflect on the Scottish Parliament elections, considering the promises and commitments of the MSPs who will be filling the chamber for Holyrood's sixth session and how these align with Children in Scotland's own priorities and calls to action. We also hear from projects looking to equip young people to successfully navigate their future.
This also marks our final edition of Children in Scotland magazine in its current form.
In this final issue:
Read a farewell interview with former Children in Scotland Chief Executive, Jackie Brock
We reflect on our hopes for Holyrood's 2021-26 session
Calls to end the 'young parent penalty'
Learn more about the innovative dance project raising attainment
How mindfulness for early years children is helping with stress and anxiety
Click here to view the latest edition of the magazine
Covid-19 Update: Our magazine continues to be published online and available to the public, as part of our offering to the sector at this time. Members receive priority access, alerted via email, before the magazine is published on our website.
About Children in Scotland Magazine
Children in Scotland Magazine has been our flagship publication, providing essential reading for the sector for 20 years.
After more than 200 editions we have firmly placed the magazine within the consciousness of the children's sector. In 2018, we were  finalists in the PPA Scottish Magazine Awards (Member Magazine of the Year) in recognition of the quality of our publication and the value it brings to those in the sector.
The evolution of the magazine and its content will celebrate and build on this rich history and respected reputation.
From late summer 2021 we will be moving the magazine content online, with articles published every week covering news, comment and projects. Following this, in the autumn we'll be launching a brand new publication to our membership offering more in-depth analysis of issues impacting the children's sector and the programmes and personalities shaping its future.
Look out for more details coming soon.
Advertise with us
Interested in advertising with us? Contact our Business Development Officer, Tracy Hope, for our current rates.
Interested in an annual subscription? Email jdrummond@childreninscotland.org.uk to sign up today