Magazine
Latest issue: December 2020 - January 2021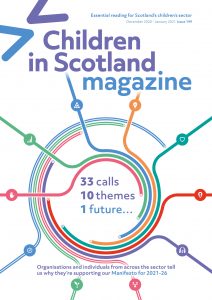 Issue 199: Manifesto special
The end of the year always provides an opportunity to reflect, and 2020 is no different. The impact of Covid has been felt in every sector, affecting some more acutely than others, and has forced a collective stocktake of how things could look as we begin to move forward.
For many, the last nine months have meant changes in working or personal life that will extend beyond 2020. The Children in Scotland Manifesto for 2021-26, launched in November, urges the same approach. It asks us to look beyond our own circumstance, consider the bigger picture and the opportunity to work together to create a better society that is fairer for all.
In this, our special Manifesto-themed edition of the magazine, we consider each of the calls made within our manifesto, and hear from organisations and individuals across the sector committed to helping achieve our vision.
In this issue:
Review our Manifesto calls, across 10 themes affecting children, young people and families as well as the children's sector workforce
Hear from individuals and organisations in support of our vision, and how we can work together to make it a reality
Find out more about how we have been working with and supporting members of Changing our World, our young person's advisory group, during this difficult time
Covid-19 Update: Our magazine continues to be published online and available to the public, as part of our offering to the sector at this time. Members receive priority access, alerted via email, before the magazine is published on our website.
Click here to view the latest edition of the magazine
About Children in Scotland Magazine
Children in Scotland Magazine is our flagship publication, providing essential reading for the sector.
Produced bimonthly, it offers  news, features and opinion as well as content updating you on the latest policies, projects and good practice impacting on children and families.
The magazine is published six times a year, in February, April, June, August, October and December. It is mailed to every member of Children in Scotland as well as sitting MSPs.
In 2018, we were  finalists in the PPA Scottish Magazine Awards (Member Magazine of the Year) in recognition of the quality of our publication and the value it brings to those in the sector.
Remember, if you or your organisation are a member of Children in Scotland you can access the online version for free. Sign in and visit the resources area of the site to download, or visit 'My Page' in the members section.
Interested in an annual subscription? Email jdrummond@childreninscotland.org.uk to sign up today