Call 24: Ensure all children can participate in high quality, innovative arts experiences from the earliest age
By Rhona Matheson, Starcatchers
It was during a performance of Hup, our live classical musical and theatre experience in an Aberdeen nursery, that a two-year-old girl who had been selectively mute since the death of her mother spoke for the first time.
It was whilst adventuring in foam-filled jungles and embarking on trips to the moon in homemade space suits that a kinship carer participating in our Creative Kin project found "the chance to bond as a family".
And it was after working with an artist to embed creative approaches in an early years setting that a practitioner described how the experience had "completely revolutionised" her practice.
These examples are a glimpse of the transformative impact that participation in high quality arts experiences can have on children and their families.
This participation might be experimenting in a playful, creative and colourful way with different materials, dancing, making music or experiencing live theatre. It is the process that matters. All of these experiences facilitate deep learning, allowing children to explore the world around them, developing curiosity and imagination, and stimulating dialogue, connection and empathy. They bring about powerful physical and emotional responses that will have a lasting impact, even in the very youngest babies.
The arts enable all of us to express ourselves. For children, particularly those who are pre- or non-verbal, this freedom of expression gives them a voice. Indeed, the right to participate freely in cultural life and the arts is enshrined in Article 31 of the United Nations Convention on the Rights of the Child (UNCRC). However, it is still viewed as a nice 'add-on' rather than a fundamental part of our development.
Over the next 25 years Scotland must build on existing foundations and take a bolder, more strategic approach to the development and delivery of arts and creativity within families, communities, education, social care and early learning and childcare. We need arts and creativity to be embedded at every level in every community.
This will require a system of funding that connects across sectors and provides long-term, consistent support.
Through Starcatchers' live performances we've seen the instinctive, joyous response all children can have to the arts and the possibilities for learning and development that stem from that experience. Scotland needs the resources to ensure the very best professional theatre, dance and musical experiences can be accessed by all.
Through our community engagement projects, where professional artists work directly with vulnerable children and their families within communities for sustained periods of time, we've seen participants' confidence grow, relationships become stronger and increased wellbeing and parental capacity as a result.
We need to embed these projects in our communities for the longer-term, with families supported through participation in artist-led activity over a number of years.
Our Creative Skills programme, in which professional artists deliver artist-led training for early years practitioners, teachers, childminders and voluntary sector staff has increased professional confidence and understanding of how the arts can be embedded in pre-birth to three and Early Level Curriculum for Excellence to improve outcomes for children – and we've seen positive changes to delivery as a result. We need to take this further and embed practical expressive arts skills into initial teacher education, early learning and childcare training programmes and continual professional development.
These steps value the arts as a fundamental part of every child's earliest experiences. The pay off for our children and for society as a whole far outweighs the cost.
Follow #25Calls to see which organisations have endorsed this call.
Article 31 – United Nations Convention on the Rights of the Child: '...the right to rest and leisure, to engage in play and recreational activities and to participate freely in cultural life and the arts.'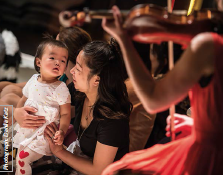 25 Calls
Return to the main 25 Calls page to find out what change others are calling for
Visit the page
Starcatchers
Find out more about Scotland's National Arts & Early Years Organisation
Visit the website
Blog: Village Storytelling project
What happens when you share stories with a young child?
Read the blog
United Nations Convention on the Rights of the Child
Article 31: "...the right to rest and leisure, to engage in play and recreational activities..."
Learn more about the UNCRC