Call 25: Cut cars from school drop-offs to boost active travel and improve air quality for our children
By Alex Quayle, Sustrans Scotland
The chaotic scene of cars jostling to drop children off for school will be familiar to many. We believe it is unsafe, unhealthy, and unnecessary. So many children being driven to school causes congestion, increases air pollution around schools and raises concerns about road safety.
A YouGov survey, carried out for Sustrans in spring 2018, polled more than 1,000 children aged five to 16 on what they thought about their journey to school. It found that less than one in four children wanted to be dropped-off by car near the school gates and more than half wanted to travel actively; on foot, by bike or by scooter. Troublingly, however, 39 per cent of children identified traffic as a barrier to walking or cycling to school.
Cars around the school gates are a key reason why more parents or guardians choose the car for the journey to school. But, each car only increases safety concerns, meaning more people think they need to drive. We cannot expect change when traffic is only encouraging more cars. But there is a simple solution to this problem – close the road to traffic.
Since 2015, Edinburgh has closed roads around 11 primary schools for drop-off and pick-up. Results are promising. There was an immediate reduction in cars around school gates as the  number of children who were driven to school decreased. Speeds on nearby roads decreased without an increase in congestion. In fact, there were 2,259 fewer vehicles on the road as a result of the street closures – more than 200 fewer per school.
"Nitrous oxide inflames lungs, increases respiratory problems and hurts young people"
More children were allowed to walk as the road closures tackled two of the biggest factors for parents and guardians: dangerous parking and fast traffic. Some schools, those that decreased traffic by the most, saw walking increase by up to 10-12 per cent. 
It gets better. Motor vehicles are responsible for as much as 80 per cent of nitrous oxide pollution in urban areas. Nitrous oxide inflames lungs, increases lung infections and respiratory problems, and disproportionally hurts young people. An evaluation of the school street closures by the City of Edinburgh Council showed they resulted in consistently reduced overall nitrous oxide levels, often by more than 50 per cent.
This is not a call for a complete ban on cars around schools. Each school should be considered on a case-by-case basis, and we appreciate that often it may not be practical for children to walk to school as many parents juggle school drop-off with getting to work. However, schools need to work with parents and guardians to prevent the drop-off moving to a busier road nearby and to ensure that children, parents and caregivers who cannot travel actively are not excluded.
This is a simple, inexpensive and quick measure that is proven to make a difference to road safety, congestion, children's physical activity and air quality. It's time for all of Scotland's local authorities to make this change for children.
Follow #25Calls to see which organisations have endorsed this call.
Article 24 – United Nations Convention on the Rights of the Child: 'the right to good quality health care, clean water and good food... Children should be able to live in a safe and healthy environment...'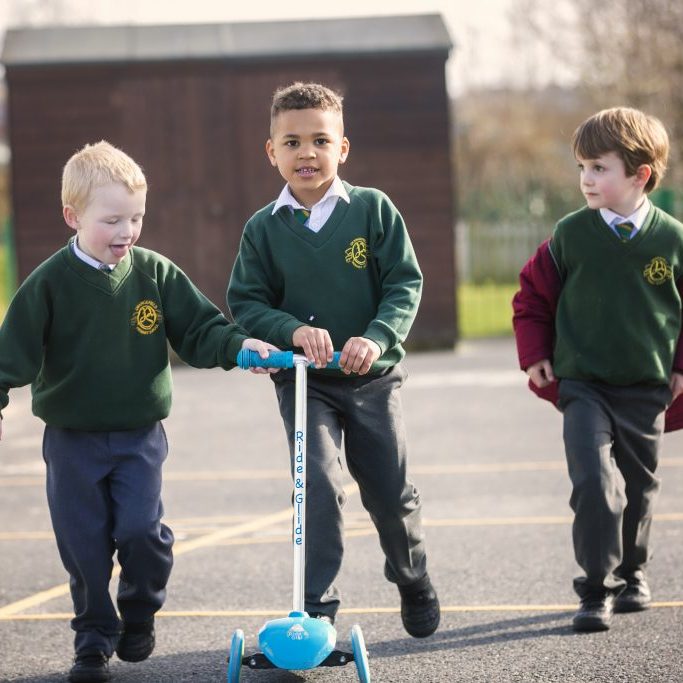 Sustrans
Find out more about the work of Sustrans, the charity that's making it easier for people to walk and cycle.
Find their website
Why getting active today can change a child's life
Jacqueline Lynn, sportscotland's Head of School & Community Sport, on the impact of participation programmes
Read the blog
25 Calls
Return to the main 25 Calls page to find out what change others are calling for.
Visit the page
United Nations Convention on the Rights of the Child
Article 24: "Children should be able to live in a safe and healthy environment..."
Learn more about the UNCRC
Our projects
As part of achieving our vision that all children in Scotland have an equal chance to flourish, we undertake a wide range of work.
Find out more