Call 18: Take the next step in participation and food education: give communities the keys to school kitchens
I've been working in the Glasgow community since 2005 and over the last five years I've observed food poverty getting much worse, linked to changes in the benefits system. Families are skipping meals to ensure their children are fed – they're not looking after themselves because they don't have the capacity to. The implementation of sanctions has had such a negative effect: one person I met was sanctioned for 26 weeks. Meanwhile, the cost of living for families has gone up while real wages are static or decreasing. People are being forced into low-wage jobs or zero-hour contracts. In other words, they have no stability.
A few years ago, Glasgow City Council weren't really acknowledging food poverty as an issue. Now, there's been a major shift. It's great that the council has responded with funding, but they're going to have to sustain it until the problem is resolved. Achieving this must go hand in hand with top-level reform of welfare, so families have more security and feel empowered. It will mean changing the whole ethos of 'who owns kitchens in the community?'
The motivation in my work is seeing the change in people that food education and practical cooking brings. People can cook anything, but most come to the classes I run believing other people cook and that they're not able to. Many are socially isolated, so I really like the idea of bringing people together through food and building genuine communities. That's what cooking together has the power to do.
In my work, I see the impact of advertising on children all the time. We need to be much more conscious of its power, and challenge it. Let's remind everyone how many billions of pounds McDonalds and other corporations have to spend on advertising to make you buy their products, which are full of fat, salt and sugar. I like to make milkshakes with children I work with, to show them what goes into a homemade milkshake versus what goes into a McDonald's one. Small exercises like that are important, but it's vital not to preach. There are areas of Glasgow dominated by fast food outlets. People must not be blamed for making 'unhealthy choices' when the only choice available to them is unhealthy.
In schools, we need to work harder to remove the pressure and anxiety around food. We're living in a culture where the message is that food should be fast and come in a packet. In many schools, dinner is served in moulded plastic trays. There is no social element, no encouragement to take your time and enjoy food, and – because children aren't involved in food preparation – a massive issue with food waste.
How do we begin to answer these problems? My vision would be that all schools have training kitchens and that there are always opportunities for parents to access these spaces. One of the best things is helping to build up the relationship with parents so they can incorporate cooking with their children in the home. Food education should be a requirement from P1 upwards; if there are green spaces nearby, they should be used to establish a link with local food; and we should shift Home Economics into school training kitchens. Work I did recently with autistic children hosting their own restaurant, deciding the menu and making the food shows what can be achieved, even when an idea sounds radical and ambitious on paper.
The Food, Families, Futures programme demonstrated that local partnerships can support families effectively and give the problem of food poverty a national profile. It's time for the next step.
Click here to follow #25Calls to see which organisations have endorsed this call.
Article 27 – United Nations Convention on the Rights of the Child: '...the right to a standard of living adequate for the child's physical, mental, spiritual, moral and social development...'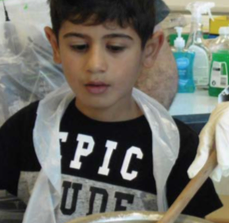 Food, Families, Futures
Find out about this multi award-winning project on food poverty and its links with wellbeing and education
Click here for more
United Nations Convention on the Rights of the Child
Article 27: "... the right to a standard of living adequate for the child's development."
Click to learn about UNCRC