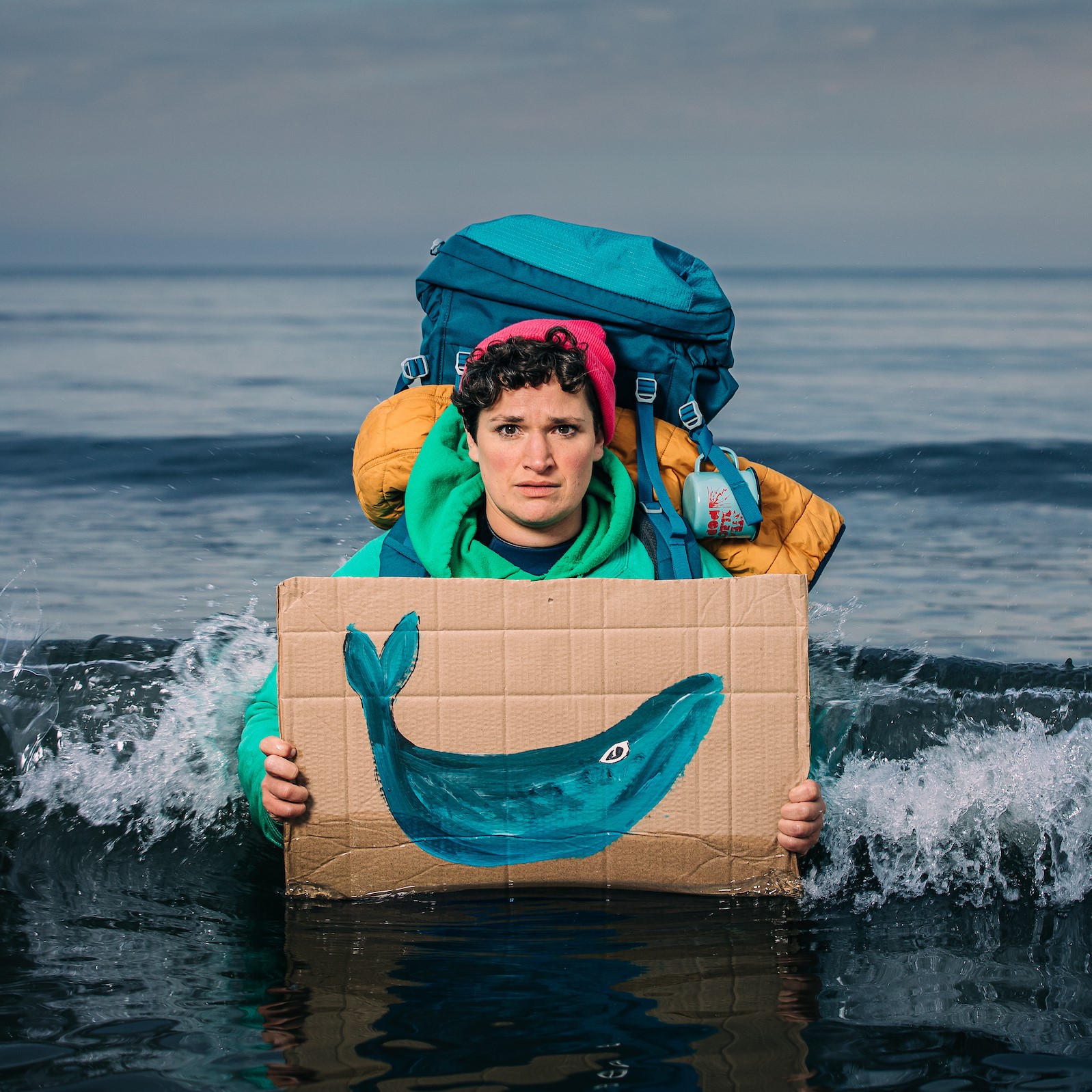 News: Climate-conscious theatre performance tours Scottish schools
Posted 22 February, 2023 by Nina Joynson. Photo credit: Andrew Perry
Activism and the climate crisis is the focus of 'Maya and The Whale', a new theatre production touring Scottish schools in February and March.
Aimed at upper primary and lower secondary classes, Maya and The Whale follows a young climate activist who comes face-to-face with a dying whale.
Creator Hazel Darwin-Clements plays Maya the teenage activist while the school audience takes on the role of the whale, creating an interactive experience for pupils. 
First shared during COP26, the play is a response to the youth climate strikes and explores activism and the climate crisis as experienced by young people. 
The creators are also providing schools with learning resources and contacts for local projects to encourage them to continue discussions on and engagement with climate resilience after the performance. 
The play is suitable for P6-7 and S1-2 and performances are taking place in Edinburgh, Glasgow and the Lothians until Friday 3 March, before the show tours more widely across Scotland until the end of March.
Produced by Theatre in Schools Scotland – the schools touring project managed by National Theatre of Scotland and Imaginate, the show is created and performed by Hazel Darwin-Clements with live music from Nik Paget-Tomlinson.
Climate-minded touring
The climate crisis is a central theme of Hazel Darwin-Clements' work, prompting her to develop a more sustainable way of touring her theatre performances.
All props and costumes for the show have been borrowed or bought second-hand with consideration of ethical supply chains and product longevity.
The performer and accompanying musician are also travelling to schools exclusively by e-bike and public transport, and the play was written to be performed without a stage set or lighting so that time usually spent in set-up can be given to longer travel times, and equipment doesn't need transportation.
Everything for the performance is small and light enough to fit in bike panniers or a backpack.
The company is also booking dates in Scotland with travel and distance in mind, to reduce the tour's carbon impact.
Early reviews
Having started its tour on Monday, Corstorphine Primary School in Edinburgh has been one of the first to see Maya and the Whale.
"I thought it was amazing how the actor told the story using all the different characters!", one P5 pupil said.
While Tanya McLaughlin, a teacher at the school, said:
"The show deepens the impact of the curriculum and the children's learning about climate change and its impact on the world in an engaging, entertaining way.
"It captured the imagination of all the children and allowed them to access their learning out of the classroom."
Click here to learn more about Maya and the Whale