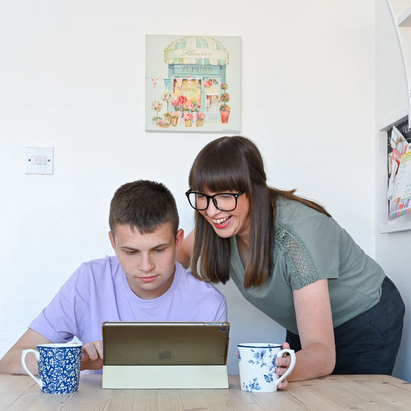 New app launched to help school leavers with additional support needs transition into adulthood
Posted 22.06.23 by Alice Hinds
A new app has been launched to help young people with additional support needs navigate the transition into adulthood.
Developed by health and social care charity ARC Scotland (click here for more), with funding from the Scottish Government, the Compass digital platform aims to be a "one-stop shop" for young people as they leave school, providing support and advice for students, as well as parents and carers.
For many young people, leaving school means a straightforward move to further education or the workplace but for those with disabilities and additional support needs, planning for the future is more complex, and many people require accessible, appropriate information and tailored support packages.
ARC Scotland says transition planning is a "huge part" of enabling the young people it works with to get the right support when they need it – and free access to Compass will play a key role in making the steps before and after leaving school more manageable for Scots aged 14 to 25.
Mum-of-three Alyson Smart (pictured below), from central Scotland, has already been making use of Compass, and says the app has been particularly useful as her son moves into sixth year of high school.
"We asked to get involved in the trial of Compass and have already found it invaluable," she explained. "Trying to find the right information for children like mine as they move towards adulthood is extremely challenging.
"In an ideal world we would know who to speak to and where to go but life with two young people who have additional support needs is busy and with Compass, all the information is in the one place.
"I've found myself sitting at midnight being guided towards the right places on Compass. It's really easy to use. You complete one task and move to the next. My son, who has autism and a moderate learning disability, has used it too and he finds it very straightforward. It's worded nicely also and there is no negative language."
As well as supplying essential information for users, the platform also gathers feedback and statistics to enable local authorities to improve practice, and forms part of ARC Scotland's work to make transitions smoother, identify gaps in provision, and provide better support to empower young people who require additional assistance to live fulfilled and independent lives.
James Fletcher, director of ARC Scotland, said: "Young people with additional support needs and their carers face all sorts of challenges as they move towards adulthood.
"Finding the right information at the right time is critical and this is something which we, as an organisation which advocates for people with disabilities, have been working hard to address in the past few years.
"Compass was trialled with young people, as well as their parents and carers. They have helped to create the finished product to make sure it covers the things most important to them.
"Those involved have also used Compass to give feedback to their local authority about their own experiences of transitions and how they can be improved. We believe this is a significant and pioneering resource which will pave the way for other interactive platforms."
For more information and to access Compass, click here to visit the website: compasslaunch.scot