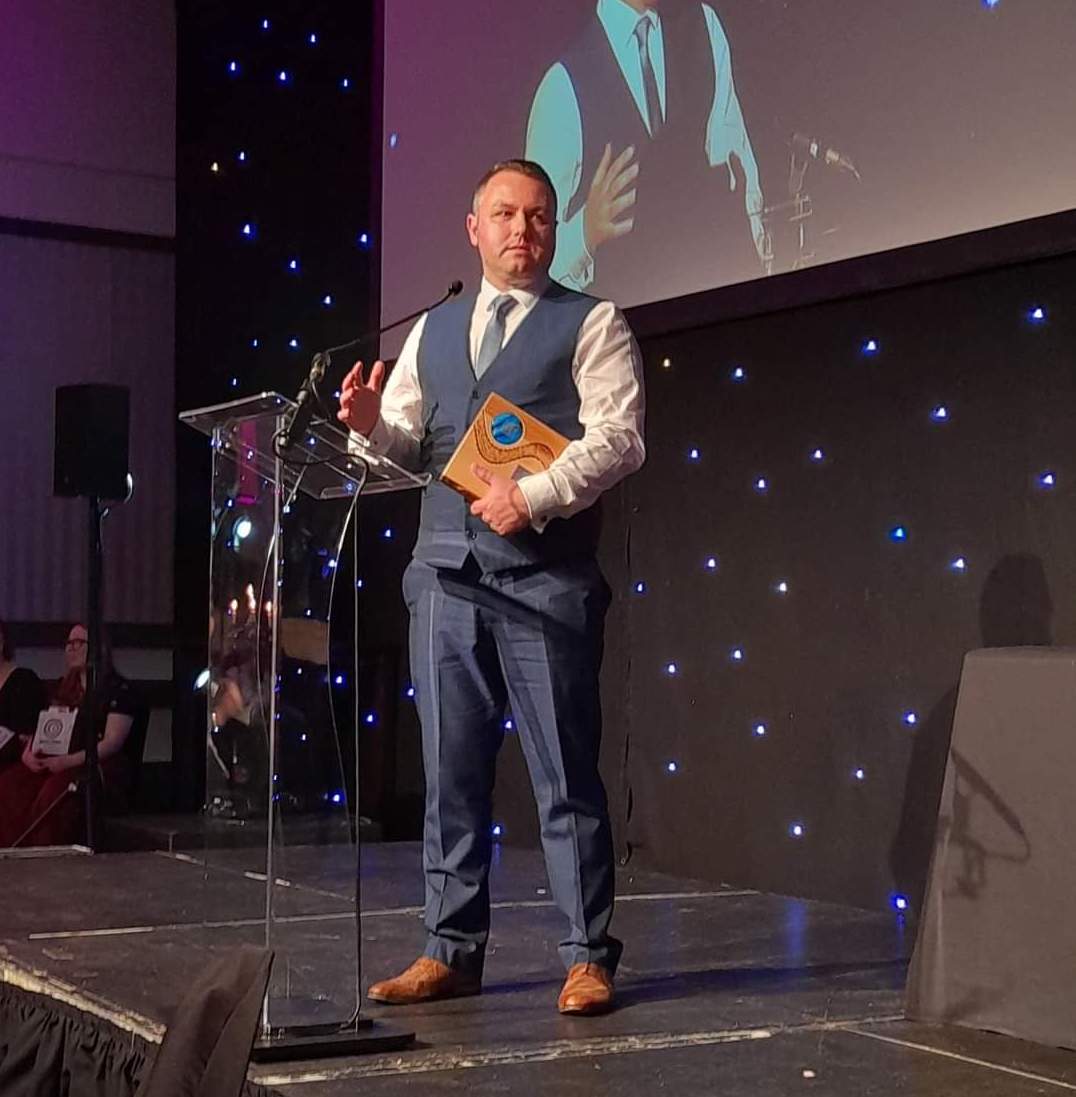 News: S.M.I.L.E Counselling named Charity of the Year
Posted 17 June, 2022 by Jennifer Drummond. Photo: Declan Harrigan, CEO of S.M.I.L.E Counselling at the Scottish Charity Awards 2022. 
The West Lothian-based counselling service scooped the prestigious prize at the Scottish Charity Awards 2022.
The annual event, run by the Scottish Council for Voluntary Organisations (SCVO), celebrates the very best of the Scottish charitable sector.
Eight categories recognise campaigning, pioneering projects, climate conscious activity and digital success as well as employees, volunteers and trustees.  Each of these categories are decided by a judging panel with a ninth category, the People's Choice Award, voted for by the public.
S.M.I.L.E Counselling, which provides free counselling to 11-24 year olds took home the top-billed prize of Charity of the Year.
Established in 2015 the organisation has helped more than 1,000 individuals and a further 2,500 in a group setting, delivering more than 7,000 counselling hours.
Commenting on the win, Declan Harrigan, Founder and CEO said:
"We were shocked and overwhelmed to win Scottish Charity of the Year 2022. We graciously accept the award not only on behalf of our staff, volunteers, and trustees but on behalf of all our clients, students and participants who all encompass S.M.I.L.E services.
"This award, to us, indicates a recognition of the truly demanding but rewarding work we are involved in. Recognising our amazing team and their willingness to go that extra mile to do what is needed for their clients.
"Our vision has always been to replicate what we have done in West Lothian over the last seven years in other counties and this will be part of our future plans. No child should be left behind or without support, if this award shines a brighter light on the need for additional services for mental health in children services, then this can only be positive."
Other charities recognised on the night include Leuchie House, Coatbridge Citizens Advice Bureau, Feldyroo, Scottish Families Affected by Drugs and Alcohol, Sustainable Thinking Scotland, Simon Community Scotland and Fare Scotland and the Royal Zoological Society of Scotland who won the People's Choice Award.
Click here for a full list of winners