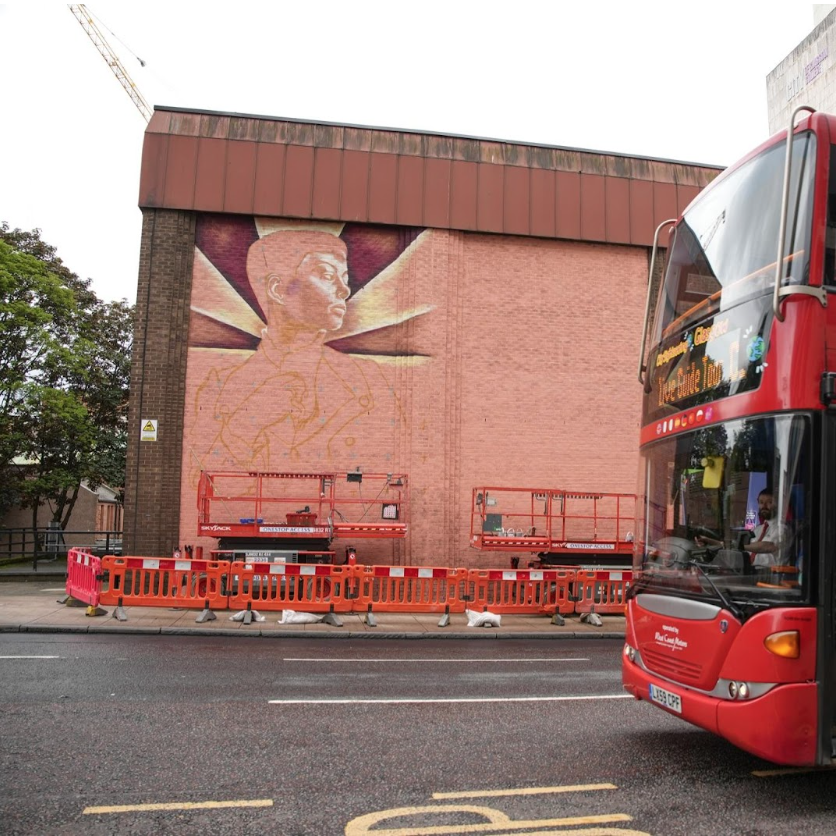 Unique initiative unites care experienced young people through street art
Posted 13.07.23 by Alice Hinds
Five bold and inspiring new murals will soon be on display at locations across Scotland as work on the next phase of an exciting "artivism" project brings together care experienced young people through artwork.
Led by organisation The Articulate Cultural Trust, the nationwide Artivism (Art + Activism): The Gable End Edition project centres around the creation of murals in Glasgow, Edinburgh, Kilmarnock, Dundee and Aberdeen, with each one designed to explore and illustrate our "shifting social and cultural landscape" through the eyes of inspiring young people.
Two murals have already been completed in Kilmarnock and Dundee, and work is now underway at the University of Strathclyde campus, where artists Frank, Mandy and Skye Carty ­– known collectively as Artisan Artworks – will create a hand-painted scene that visually references different periods in history that saw social changes, informed by young people supported by Articulate.
Once complete, it is hoped the Cathedral Street artwork will become a feature of the popular Glasgow Mural Trail (click here for more).
Frank Carty said: "Working with the young people from Articulate has been amazing for me. I've worked with them for 18 months and seeing them learn and develop their artistic flare is inspiring. Sign-writing is my family business and sharing some of what we do and approach with the young people is incredible. The challenges they face are harsh and it's humbling to see their passion and hard work emerging into this large-scale work."
Supporting marginalised children, young people and families to access and benefit from the arts and culture, Articulate finds ways for people to express themselves in positive ways, while also gaining skills and experience that support positive wellbeing, destinations and learning outcomes, reflecting Article 31 of the UNCRC, the right to create and play.
Laura Frood, producer and The Gable End Edition project lead for Articulate, said: "We are thrilled to have completed two of the five murals and see the commentary across the Scottish towns and cities beginning to take shape. The young people have approached the opportunity with maturity, curiosity and a sense of fun. We know that individually and collectively the murals will help communities think differently about the skills, talents, interests and aspirations of care experienced young Scots."
All five outdoor artworks are due to be completed by 2024, after which a digital mural trail will be available online alongside images and videos that explain the ethos behind the project.
For more information, click here to visit the ACT website: www.articulatehub.com