Having a presence at party conferences means we can talk directly to politicians and ask them to commit to involving young people in decision-making. We look forward to holding them to their promises, as our Assistant Policy Officer Chris Ross explains.
The Policy, Projects and Participation team spent a few busy weekends out at the Spring Conferences with our friends at YouthLink Scotland over the past few months.
Although, how much of this took place in what can actually be called Spring is debatable. The Conservatives fell foul of the snow in March while the SNP held their conference back until June.
The party conferences are a great way for us as a team and an organisation to engage directly with elected members and get a feel for what is being discussed within each party. They increase awareness of our work and allow us to take our message directly to those making decisions about party policy.
This year we focused on how we use the Year of Young People as a catalyst for meaningful change. Participation is a key theme for the Year and we are fully committed to realising children and young people's right to be heard in decisions that affect them.
It was natural then to target MSPs, Councillors and party members. We asked them how they plan to ensure that the legacy of Year of Young People is that children and young people are properly involved in decision-making processes.
One of the key concerns for us heading to the conferences is always about ensuring that we have something tangible we can take away from our conversations.
It's all well and good discussing the importance of children and young people being heard in decision-making with MSPs. But when they are meeting more than 30 exhibitors, speaking at fringe events and engaging with party members, how do we ensure that dialogue is meaningful and can be followed up?
This year we settled on pledges as the way to help deliver this. We challenged all who came to our stall to make a pledge about how they will involve children and young people in the decision-making processes. This could be in their local party, in their work or in parliament.
We got some powerful commitments. If all are fulfilled, then the Year of Young People will be the catalyst we all want it to be.
There was a clear call across the conferences to listen to the voices of children and young people at all levels of decision-making. Party members and elected representatives were consistent in their support for putting children and young people at the heart of decisions that affect them. There was also widespread interest in listening to children and young people about the impact that policies aimed at children and young people are having on the ground.
We are looking forward to working throughout the year with the MSPs, MPs and Councillors who made pledges to see what progress they have made and what support we can provide to ensure that these are fulfilled.
It will be exciting to see how Willie Rennie MSP takes forward his pledge that young people will shape Liberal Democrat policy. We have lots of learning from our work about how their party decision-making structures can be more accessible to young people.
We're keen to hear from Patrick Grady MP about how the youth surgery he has pledged to hold in his constituency went. We would be happy to link him up with our members in his constituency who can facilitate engagement with children and young people.
It will also be great to hear from Lewis MacDonald MSP about whether health and wellbeing policies are reaching young people. This could make for a powerful Health and Sport Committee inquiry that has children and young people's experiences at its heart. We would be delighted to work with the committee to set this up.
We are also looking forward to continuing to work with Andy Wightman MSP on the Planning (Scotland) Bill to fulfil his pledge to ensure children and young people are heard in decisions about planning. Look out for amendments to Stage 2 of the Planning (Scotland) Bill in September that will support this.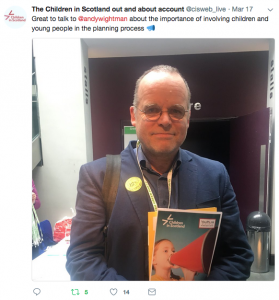 These barely scratch the surface of all the exciting pledges we received across the conferences. To hear about more of our conversations at the conferences and the pledges that were made, keep track of our twitter account (@cisweb) and don't hesitate to get involved in the conversation if you think you can support any of the elected representatives to fulfil their pledge.
Chris Ross is our Assistant Policy Officer