Opportunities lost: the impact of Brexit on the next generation
Throughout Brexit discussions, young people have spoken about their concerns on how it will impact their lives. What happens next will be crucial for the opportunities of the next generation, writes David Mackay
There was a palpable sense of relief as 2020 ended. In the final few days of December, many took to social media to share memes celebrating the end of a challenging year in which our sense of normality had been turned upside down. The prospect of a brighter year was looming.
However, just a few days later First Minister Nicola Sturgeon announced new national lockdown measures and it became clear that 2021 (or at least the first few months of it) wouldn't feel as different as we had hoped.
On top of this, the UK entered the new year with a very different relationship with the European Union. Since officially leaving the EU on 31 January 2020, not much had changed. The UK remained in both the EU customs union and single market until 31 December 2020, during the transition period. Now, however, the formal separation is complete.
Just one week earlier, on Christmas Eve, a UK-EU trade deal had been triumphantly announced by Boris Johnson. Despite the Prime Minister's suggestion, I doubt many of us spent our Christmas afternoon digesting the newly published trade agreement. Since then, the contents of the deal have trickled out into the public consciousness.
So far, the challenges of the meat and fish industries seem to have received the most news headlines, with reports of produce rotting at EU ports and calls for financial support from the UK government.  But, with Covid-19 providing such a skewed sense of normality, how many people are really aware of the detail of the deal and what impact Brexit will have on their lives? And importantly, what impact will Brexit have for future generations?
Since 2018, the Children and Young People's Panel on Europe, supported by Children in Scotland and Together (Scottish Alliance for Children's Rights) has been looking at key issues affecting children and young people as the UK leaves the EU. Their work – which continued throughout last year despite the pandemic – provides a great insight into young people's hopes and fears after Brexit and can be a useful barometer for measuring the deal.
A key issue for the Panel was the opportunity to work, travel and study in the EU. As of 1st January, freedom to live and work in the EU has come to an end for UK nationals, who will now need a visa for stays of longer than 90 days in the EU. As part of the Brexit deal, the UK Government also announced that they would no longer participate in the Erasmus+ scheme, a programme that helps students to study in other EU countries. Instead, a new UK programme named after the mathematician and Bletchley Park code-breaker Alan Turing is to be launched in September 2021.
As well as supporting university exchanges, Erasmus+ has provided opportunities to work, teach or train abroad to other groups, including vocational students, education staff and youth workers.
The programmes' impact on improving employment prospects and increasing opportunities for those from disadvantages backgrounds and those with additional needs has been well documented. It remains to be seen whether the Turing programme will offer the same broad range of opportunities to support young people's learning and development, rather than simply focusing on academic achievement.
To be considered a success, any replacement programme must seek to overcome inequalities and create opportunities for all our young people.
The governments of devolved nations have been vocal about their concerns of leaving Erasmus+ citing worries about reduced opportunities for UK students, and in particular those from more deprived communities. In January, the Scottish Government, along with partners in the Welsh Assembly, announced their intention to work to continue to secure the benefits of the programme. So there is hope for our Scottish students at least.
Another important topic for the Children and Young People's Panel on Europe was EU funding. Now that the UK has left the EU, we will no longer receive European Union structural funding, calculated to be worth around £2.1 billion per year.
The UK Government has pledged to set up a Shared Prosperity Fund aimed at reducing inequalities between communities across the four nations and to deliver "sustainable, inclusive growth". So far, there has been a lack of clarity about how this fund will operate and how it will be fairly distributed among regions.
Children and young people are concerned about the impact changes to funding will have on youth services and community projects which have already been hard-hit by the impact of years of austerity and cuts.
Now that a Brexit deal has been agreed, many feel it's time for the Prime Minister to deliver on his "Levelling Up" promise and reduce the geographic inequalities across the UK. Let's hope this levelling up becomes a reality rather than just another post-election soundbite and that some of Scotland's most disadvantaged communities receive the investment and development they need to create more opportunities for our children and young people. It is now more important than ever in the context of Coronavirus recovery.
There is however some good news coming out of Parliament in the midst of all this uncertainty and talk of restrictions, both Brexit and Covid-related. In January, the UNCRC Incorporation Bill unanimously passed stage one in the Scottish Parliament. The adoption of the United Nations Convention of the Rights of the Child is a result of many years of campaigning across the children's sector. It is a little beacon of hope and a move towards a future where children and young people will have more of a say in the decisions that affect their lives.
David Mackay is Policy and Projects Manager with Children in Scotland
This article first appeared in Children in Scotland magazine, Issue 200, published February 2021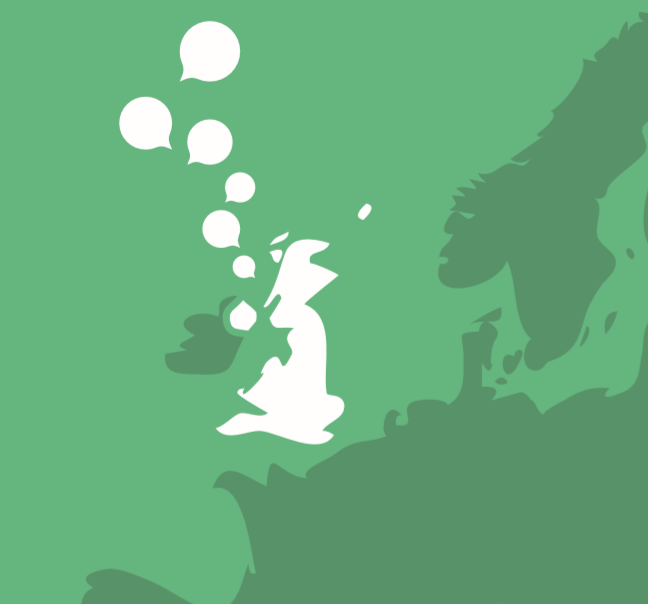 The Panel on Europe
Speaking out about the impact of Brexit on children and young people
Click to find out more
Blog: Listen and learn
Why involving young people in decision-making is good for everyone
Click to read the blog