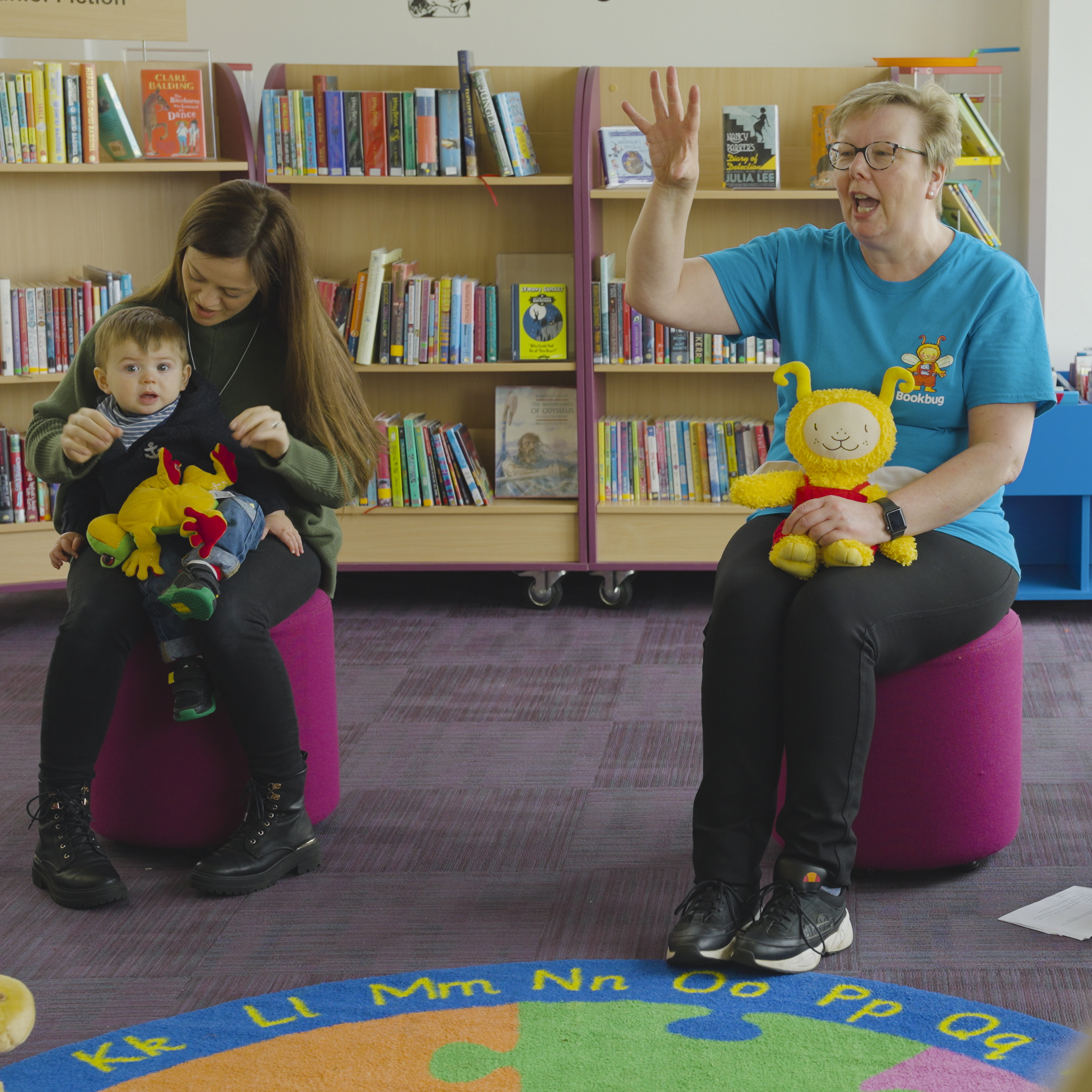 Nominations open for Bookbug Hero Award 2024 – here's everything you need to know
Posted 13.10.23 by Alice Hinds
The Scottish Book Trust has launched the fifth annual Bookbug Hero Award, and is now calling on people to nominate practitioners who use reading to improve the lives of children and families across Scotland.
Run in association with Walker Books, publishers of award-winning authors including Anthony Horowitz, Angie Thomas and Cassandra Clare, the Bookbug Hero Award 2024 is open to librarians, early years workers, volunteers, health visitors or anyone who uses Bookbug to enhance literacy programmes within the local community.
The biggest nationwide universal book gifting programme in the world, Bookbug sees every child in Scotland receive four free book bags between their birth and first year of school, and around 375 Bookbug Sessions take place each week in libraries and community spaces across Scotland, while Bookbug for the Home practitioners also support families on a one-to-one basis.
Nominations are open from now until Friday 10 December 2023, and the winner will be celebrated with a short film made about their work, as well as a special trophy and a bundle of picture books worth £500.
Marc Lambert, CEO of Scottish Book Trust, the national charity changing lives with reading and writing, said: "Bookbug reaches children all over Scotland, providing vital access to books. Without the work of Bookbug practitioners, many families would not discover the fun and lifechanging benefits of sharing stories, songs and rhymes. It is fantastic to be able to recognise this important work through the Bookbug Hero Award, for the fifth time. Our thanks to Walker Books for their continued support in recognising these heroes."
The team at Walker Books added: "We really appreciate all that Bookbug and the heroes who run the programmes do for communities, and we are really pleased that we can continue to show our appreciation and support of that work by sponsoring the award. We love that it shines a light on those practitioners who champion reading, and work tirelessly to change lives through stories and can't wait to hear more about the next winner!"
Librarian Ian Keane, winner of the Bookbug Hero Award 2022, said tacking home the prize had a huge impact on his local community – and even saw more people come to his library.
"Our library service was losing the battle and losing the war on maintaining Public Services," he said. "To have a national agency declare that you and your service are doing great was a shock (a good one).
"It reinvigorated the whole team, it inspired us to work harder, we nearly doubled the number of attendees in the 'Hero' year. It has recalled us to life and reminded us of our relevance and worth. The war for public service is still being fought but thanks to the Bookbug Hero Award, for a little while at least we won our battles and found new strength. It won't be long before the early Bookbug toddlers return with their children. Hopefully, if we keep winning, the Library and our team will be there to greet them."
For more information and to nominate your local Bookbug Hero, click here to visit the Scottish Book Trust website
Want to discover more about how reading can improve children's lives? At Children in Scotland's up-coming Early Years Conference 2023, author Laura Henry-Allain MBE, creator of the JoJo and Gran Gran characters, will deliver a keynote address, sharing her personal story of growing up as a working-class, dyslexic child on a council estate in west London, as well as the importance of diversity and inclusion in education. Click here to book your place