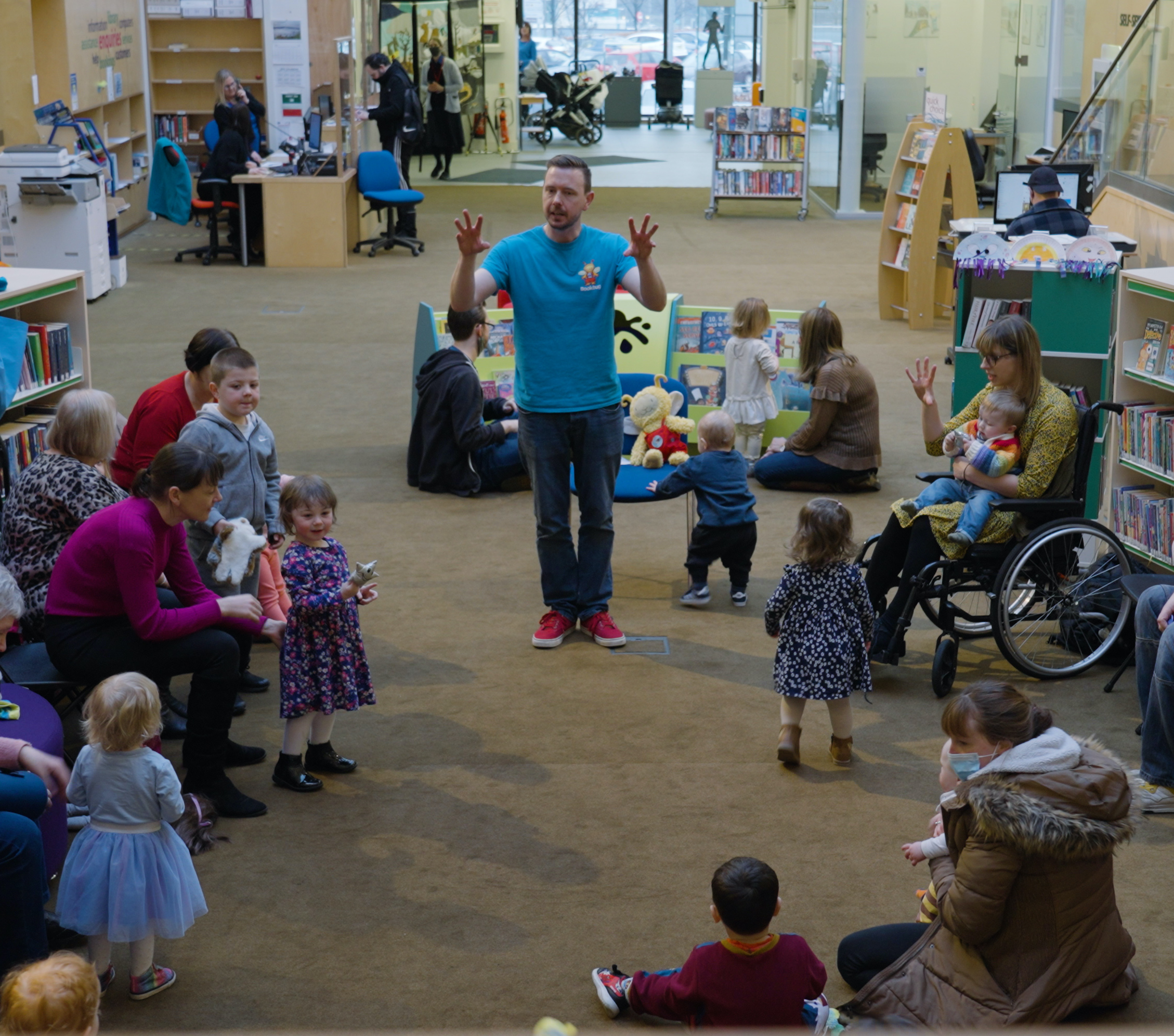 News: Search begins for Bookbug Hero 2023
Posted 28 September, 2022 by Jennifer Drummond. Photo: Ian Keane, Bookbug Hero 2022 runs a local BookBug session. Photo supplied by Scottish Book Trust.
Scottish Book Trust has opened nominations for its Bookbug Hero 2023 award, honouring someone who has made a difference to the lives of young children, families and communities they work with.
Run in association with Walker Books, the national charity is asking people across the country to nominate a librarian, early years worker, volunteer, health visitor or anyone who uses Bookbug in their work.
Bookbug is Scotland's national book gifting programme, gifting books to every baby, toddler, three- and five-year old in Scotland in four Bookbug bags. Two Bookbug books are also included in the Scottish Government's Baby Box scheme, gifted pre-birth.
The Bookbug programme is managed by the Scottish Book Trust and run in partnerships with libraries, health professionals and early years sessions. Bookbug sessions are also run by local libraries or community groups providing free story and rhyme sessions aimed at children up to age four and their families or carers.
Marc Lambert, CEO of Scottish Book Trust said:
"Bookbug touches the lives of so many young families all over Scotland, in libraries, early years and nursery settings and also through the health service. We are excited to open nominations for our fourth Bookbug Hero Award, which celebrates the brilliant work of our Bookbug practitioners. Without this work, many families and children would not discover the fun and lifelong benefits of sharing stories, songs and rhymes."
Nominations can be made online via the Scottish Book Trust website until Friday 4 November.
A winner will be decided by an expert panel made up of early years practitioners and authors to receive a trophy and a bundle of picture books worth £500 from Walker Books.