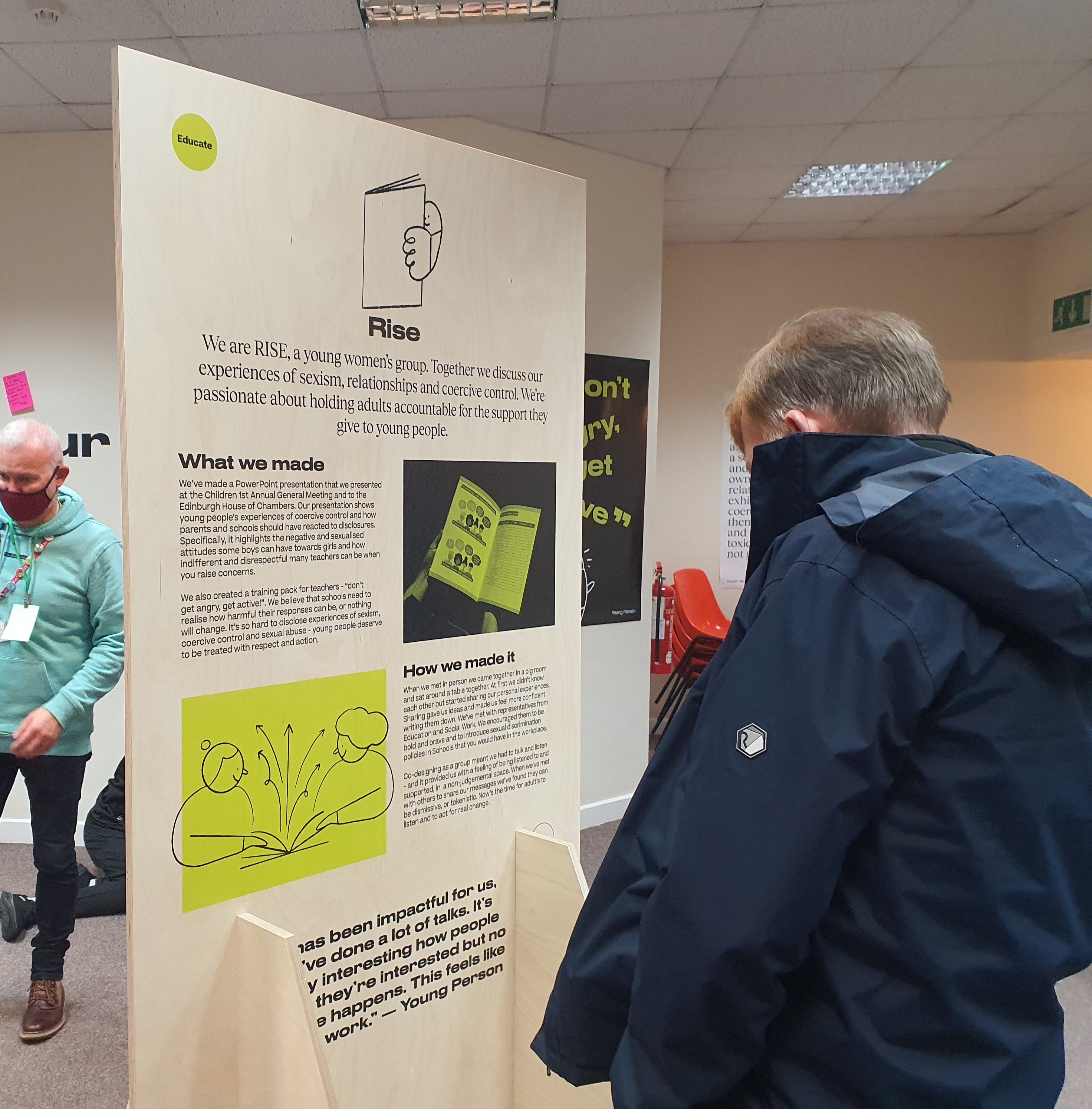 News: Change Up exhibition considers action to address coercive control in teen relationships
Posted 8 December, 2021 by Jennifer Drummond. Image: Change Up exhibition. Supplied by Dartington Service Design Lab.
A new exhibition showcases youth-led designs for innovations aimed at promoting positive relationships in adolescence and supporting positive wellbeing.
The Change Up exhibition is the result of work done by youth organisations across Renfrewshire to better understand young people's views, reflections and responses about coercive control, anxiety and depression.
It is part of the Early Action Systems Change initiative, led by Dartington Service Design Lab along with Renfrewshire Council, Renfrewshire Health & Social Care Partnership, Engage Renfrewshire and partners from across the voluntary sector.
Working together since 2018, the Early Action System Change initiative has been focused on promoting healthy adolescent relationships, including understanding, and reducing, coercive control, and promoting positive wellbeing.
The initiative, funded by the National Lottery Community Fund, was developed following research in 2017 with more than 10,000 young people in the Renfrewshire community that revealed:
Of the 3,058 young people who have been in a relationship, one in four reported concerning levels of coercive control
One in ten people met the threshold for a likely clinical diagnosis of anxiety and depression
One in five children met the threshold for 'high need', but only a small percentage were receiving service support.
The Change Up exhibition features innovations designed by and for young people and system leader over the past year to tackle these issues.
From training packs for teachers on how to respond to the disclosure of an abusive relationship, to resources for young people on how to recognise the signs of coerceive control, the intention is to better educate and empower young people, and adults, to take appropriate action.
Dr Catherine-Rose Stocks-Rankin, Dartington Service Design Lab Scotland Director Designate, said:
"Working with a wide range of partners has allowed us to address the same issue from different perspectives. In this project we have put the perspectives of young people and youth workers front and centre, and then worked across the third sector and public sector social work, education and health to share learning.
"By collaboratively working together, we've co-designed valuable resources that make real change.
"This is what it takes to make system change happen – everyone needs to be involved in taking action. And we must put the voice of people with living experience at the heart of what we do."
The exhibition has been timed to open during 16 Days of Activism against Gender-Based Violence, the annual international campaign organised by the Center for Women's Global Leadership.
The Change Up Exhibition will run between 8-10 December, 2021 at YMCA Paisley.
Click here to read more about the Change Up project
Click here to read more about the Early Action System Change initiative