Amplifying seldom heard voices: the importance of direct services for children and young people
One of Children in Scotland's significant achievements during its 30-year history has been providing support for thousands of children and young people through its national services, which include Enquire, Resolve and My Rights My Say.
As we celebrate this special anniversary, Billy Anderson, Head of Services, reflects on the approach, grounded in vision and values, that binds these services and makes them a success.  
As I'm still fairly new to my role of Head of Services at Children in Scotland, I found the thought of writing something that reflected on 30 years of achievement quite daunting.
I have, however, been aware of the organisation and its work since I first (literally) downed tools as an engineer in 2002 and started my journey as a mentor with youth justice services in Dumfries and Galloway. From my first experiences of working in children's services Children in Scotland was omnipresent. No matter what council or third sector building I was in, there was always a 'Children in Scotland Magazine' sitting on a coffee table.
The world and the organisation have moved on somewhat since then but that feeling of presence is still one I get when thinking about Children in Scotland and reflecting on its significance. Back in those earlier years of my career I always framed the organisation as one that made connections, provided and shared learning, raised awareness and had an air of sparkling communication about it.
Quietly providing quality services in Scotland
However, I never saw it as an organisation that provided direct services for children. This was something I thought that local charities and organisations did "on the front line" as it were… but how wrong I was.
Perhaps many of you reading this are not aware of the services that we provide or have the same thoughts that I once had when looking at the organisation from an external vista. The services we provide are long-standing and every bit as fully fledged and firmly public-facing as those of the many other dedicated children's services providers in Scotland.
I could sit here and write in detail about what Enquire, Reach, Resolve and My Rights, My Say do as individual services, but I wanted to highlight the commonalities between them and to celebrate the staff teams who deliver them.
In a recent internal meeting, the services team presented an overview to the full staff team, which filled me with pride as I listened to each input being communicated with such passion and knowledge.
We could have spent a day talking about each service such was the vast amount of information we had to share with colleagues from Policy, Projects and Participation, Engagement and Learning and Central Services. I mentioned that I was filled with pride as I listened, and this was in part due to feeling a sense of privilege about working alongside my colleagues and building on all the work that has gone into the development of these services over the years.
One thing that struck me from the presentations was the commonality between their approaches. It is a true representation and embodiment of how organisational values and vision really drive the soul of an organisation. The following image from the slide in question that day, displays these commonalities.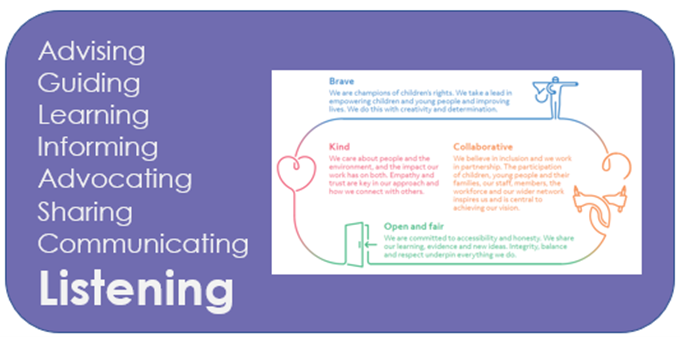 Listening is key to amplifying children's views
Listening is the key element that binds together all our services.
As my predecessor, Sally Cavers, once said: "Some people just need a good listening to!"
Also, to quote American psychologist, Carl Rogers: "We think we listen, but very rarely do we listen with real understanding, true empathy. Yet listening, of this very special kind, is one of the most potent forces for change that I know."
In these two quotes we have the very essence of what has made Children in Scotland's services so successful over time and continues to be that potent force for change in all that we do.
We amplify the voices and views of children who are so often seldom heard, in a world that is sometimes not that accommodating.
Our services have been created and then established over time in line with our vision that all children have an equal chance to flourish.
Multi-skilled teams with passion
I am acutely aware that it is our staff teams, past and present, who have provided the energy and commitment to deliver and develop services every day. It can easily be taken as read that a member of staff or a team has a certain skill set that allows them to deliver a specific service element and that they turn up to work each day and do what they are paid to do. Anyone who has ever worked in public-facing services will understand that the role goes way beyond this.
When you are working with people it is about human relationships, and everything that comes with them. Staff teams need to be multi-skilled in the domain of relationships, tactful and switched-on, motivated, committed and knowledgeable; they need to be able to shift gears throughout a day of interacting with multiple different people and still be able to be their own person at the end of the day, then turn up and do it all over again.
I mentioned the term "privilege" earlier when talking about my colleagues. This term is one that I know each one of them feels when working with children and families. It is never taken for granted or seen as "part of the job" that we are in a position to guide and support others. There is undeniable passion and integrity that fuels our staff to do all they can and always strive to improve.
So now that we are celebrating 30 years of Children in Scotland, I can say hand on heart that our services have been a major part of the organisation's success and development up to this point. I am proud to be a cog helping to drive the hands of time into the future.
I thank every member of staff involved in services from past to present and those who will be involved in our future. I thank every child, parent, carer and professional who has helped us to learn and develop. Let's keep that omnipresence burning and shining a light on the fantastic work in the sector where listening will always be key.
Click here to find out more about the range of services managed by Children in Scotland: childreninscotland.org.uk/our-work/services