Young people understand that being physically active can improve mental health. Let's learn from what they've told us
9 January 2020
Responding to Call 3 of our 25 Calls campaign and drawing on learning from their own work, Scottish Sports Futures discuss the benefits of physical exercise for the wellbeing of children, young people – and all of us
Call 3: All children and young people should have access to mental health support when needed
At Scottish Sports Futures (SSF) we work with young people all over Scotland and use sport as a tool to help change their lives. Our young leaders (ambassadors) have told us how important the topic of mental health is to them. They said there isn't enough support or ways to highlight what someone can do if they feel their mental health isn't great.
So, we created a steering group of young people and they carried out a consultation with other young people in programmes all over the country to find out what issues were relevant in their lives. By far, mental health and wellbeing was the main one.
In response to this finding, we collaborated with our ambassadors and applied to Spirit of 2012 Changing Lives Fund. Our aim was to implement a project aimed at helping young people improve their mental health and wellbeing through sport and physical activity.
Not being experts in this field, we partnered with an organisation that is. Step forward the Scottish Association for Mental Health (SAMH) and the amazing Robert Nesbitt.
By signing up to Scotland's Mental Health Charter for physical activity and sport, SSF is committed to:
reducing the stigma attached to mental health
promoting physical activity and sport
increasing wellbeing
including educational topics for coaches, staff, volunteers and directly for young people in order to embed positive mental health, and
increasing awareness across the organisation to ensure  everyone knows where to go to get safe, friendly, professional advice and support when it is required.
We wanted to know first-hand from young people what impacts their mental health. So our steering group asked them and identified four key issues: Stress, Pressure, Motivation and Social Interaction.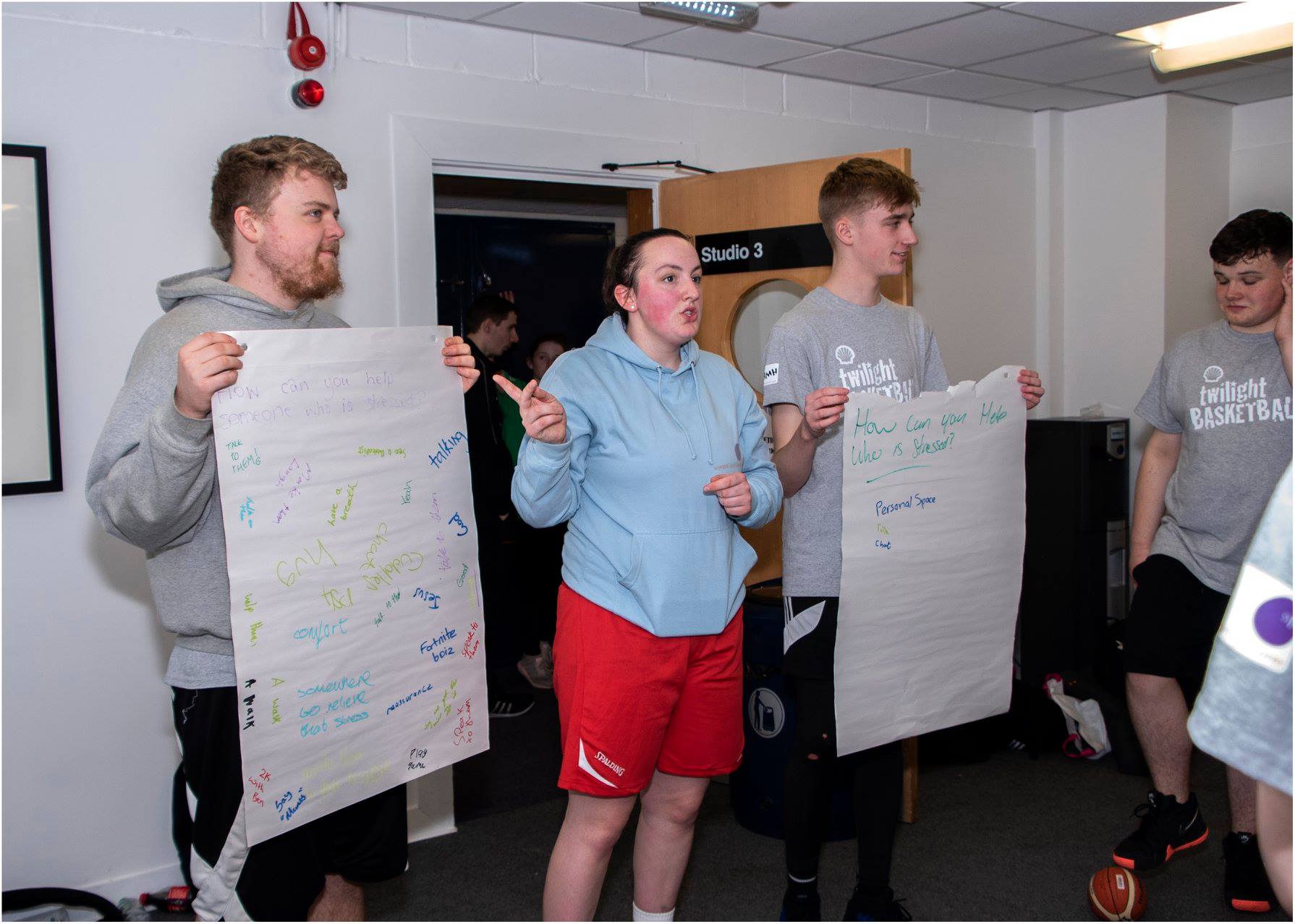 Using sport as a tool, and with guidance from SAMH, our steering group started to develop workshops for the four areas which were physical, interactive, fun and educational. These were delivered at our Shell Twilight Basketball projects in Stirling and Dalry.
The steering group used this opportunity to talk to young people about each area and demonstrate how they can use sport and physical activity to help improve their mental health and wellbeing. The most common piece of feedback from the young people who have taken part in the workshops was that exams, school, and social media have the biggest impact on their mental health.
Research suggests (click to read) that 36% of Scots don't meet physical activity recommendations. We work with young people who are active, and some who aren't.
Irrespective of how active they are, we wanted them all to understand that even going for a walk, helping their parents with gardening, or hitting a balloon in the air with their friend can help improve their mood.
"I have seen the benefits of taking part in sport and physical activity to improve mental health and that makes me want to do it even more and tell other people about it too."

– Wellbeing Ambassador
Mental health represents the highest level of disability in the UK, with half of all mental health problems in adulthood beginning before the age of 14 and three quarters before the age of 25. We wanted to make a dent in those figures and provide young people with an opportunity to learn and understand more about mental health.
Whenever the question "Do you have mental health?" was asked during workshop delivery, most of the time the response was "No". It's common that people don't recognise that everyone has mental health. Changing the mindset towards the topic from one which is negative to a more educated and enlightened one is just one of the contributions our project has made.
Within the physical activity and sporting community there are many benefits to one's mental health: for example, resilience, confidence, sense of community and belonging, inclusion and success.
Increasingly we see sporting stars talk about their mental health and back campaigns to draw attention to it. But it's people in the community (sports clubs, community organisations etc) who are most likely to help someone through a tough time or mental illness.
"It has been noted in our reflections that young people are now able to relate coming to basketball as a release from everyday stress and that it's a 'time-out/me time' for them. I believe this is as a direct result in the sessions being ran and mental health discussions taking place with wellbeing ambassadors."

– Youth Worker at Stirling Sharks Twilight Basketball session.
We are trying to change the narrative around mental health and sport through helping young people recognise triggers, things that effect their mental health and the role sport can play to help. Our steering group also developed a self-care list which is unique and personal to each young person. They can use these when they start to feel sad, anxious or simply not great mentally.
For example, one young person listed kicking a football against a wall for five minutes helps relieve stress and makes them feel calm. Another stated that talking to friends was important for their mental health as it helped them get stuff off their chest.
It was highlighted during a steering group meeting by a Wellbeing Ambassador that, during all the time they have taken part in sport or physical activity, some people don't realise that they have been working on their mental health.
"The learning and development of the Wellbeing Ambassadors since the beginning of the project has been very rewarding. I have learned so much from them and enjoyed watching them develop content for workshops, come up with new ideas, been blown away by their enthusiasm and seen significant progress in their own mental health."

– Ross Hutton, Youth Development Co-ordinator, SSF
Albeit minor in the bigger picture, our project has been a success. It has started to change the narrative about mental health and physical activity among the young people we've engaged with. The ambassadors have delivered to around 1700 people, and this is an area we are committed to developing further.
"The Wellbeing Ambassadors have continually shown their ability to adapt to new audiences and experiences. Exploring and identifying common themes around mental health and wellbeing for different groups, this has meant that they approach activities focussed on the needs of their audiences."

– Robert Nesbitt, Head of Physical Activity and Sport at SAMH
---
Ross Hutton is Youth Development Co-ordinator – Shell Twilight Basketball.
He is responding here to Call 3 of our 25 Calls campaign, by Changing our World, Children in Scotland's young people's advisory group. Click here to read the call
Scottish Sports Futures (SSF) is a registered charity, delivering 'Sport For Change' programmes in communities across Scotland.
Using inclusive sport and physical activity as a tool, it offers young people transformative ways to learn about physical and mental wellbeing, goal setting, teamwork and active citizenship.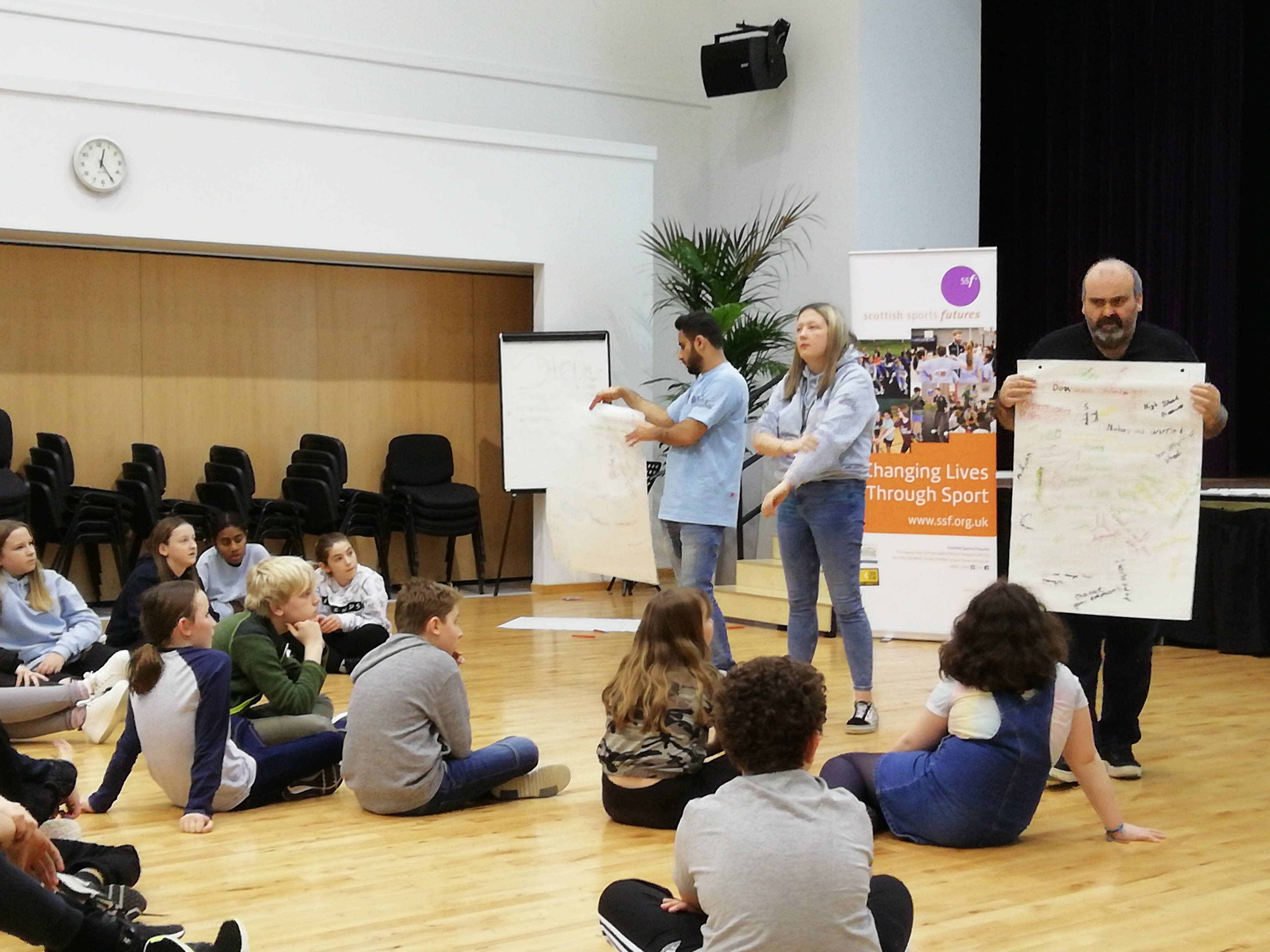 About the author
Scottish Sports Futures is a Glasgow-based charity delivering Education through Sport programmes to young people throughout Scotland
Click to visit the website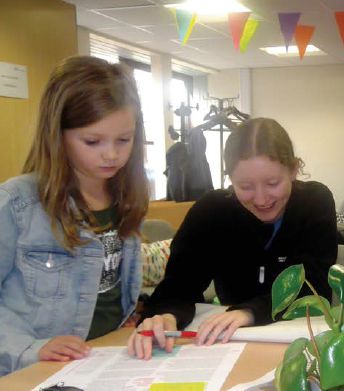 25 Calls campaign
Find out more about the 25 Calls campaign, view press coverage and read further responses
Click to find out more