Working on matters that are important to me has been so valuable: a week in the life of a research volunteer
My first week working within the Policy, Projects and Participations team has been a blast!
To be able to work on matters that are important to me has been so valuable. Working within the office has also given me a real sense of what it is like to work with Children in Scotland and how the staff work.
Day 1 was great; I had my induction and was raring to go. I met everyone in the office and got a warm welcome from all, it was particularly interesting to see everyone's roles within the office.
I was then ready to start work, which began with digital mapping of what work was going on around Scotland relating to the environment and climate change.
I shared a call out to people and organisations on Twitter seeking information. I also began my own research using some of my personal knowledge and found several interesting organisations.
Day 2 was also very interesting; I was excited to see what response my call out had received, and was happy to have received some very useful information about different organisations that work with the environment, climate change and also young people.
I started to draft a report about what was happening within the sector in Scotland. I researched the Paris Agreement, government strategies and different organisations. The work being done is very good across the board, however, I started to notice a worrying trend, that rural communities such as my own were often not being reached and sometimes neglected. This is often due to lack of funding, negligence or simply not being able to connect with them.
Day 3 started with me making recommendations on young people's use of Children in Scotland's social media whilst at events. This is something that I feel is important as I feel peer to peer engagement is key when it comes to children and young people. Young people are constantly using social media to engage with each other so why not use it to show other young people about the work that is going on and events they could possibly get involved in.
In conclusion, my first week as a Research and Digital volunteer with Children in Scotland has been a very enjoyable experience. I have learnt so much, done some great work and have met some amazing people. It has truly been a valuable experience so far and I can't wait for the upcoming weeks.
About the author
Hope is 15-years-old and lives in Orkney. She is currently the MSYP for Orkney and one of the children's commissioner's young advisors. She is also on the Technology Enabled Care panel with Young Scot.
Hope is working with Children in Scotland for four weeks on a work experience placement. She enjoys politics, international law, feminism and languages. She also enjoys working with youth engagement and tackling diversity.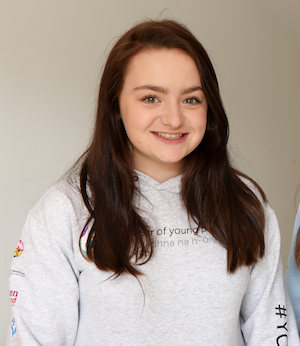 About the author
Hope is 15 years old and lives in Orkney. She is currently the MSYP for Orkney
Find out more about SYP