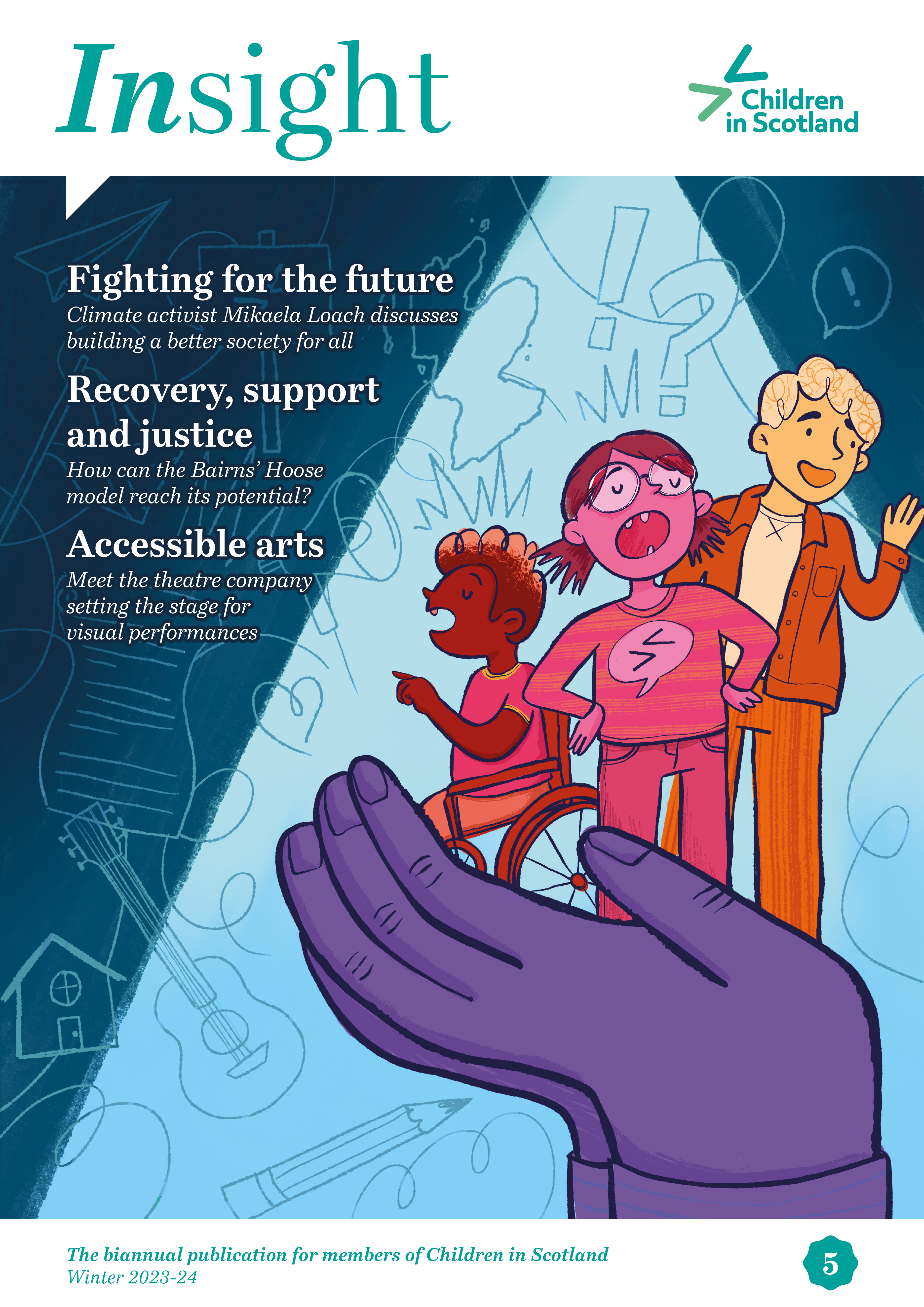 Issue 5 (autumn 2023)
Published November 2023
Inspired by our contributors, the theme of this fifth issue of 'Insight' is "young voices" with many articles and features exploring the importance of listening to young Scots to improve our work and their lives.
In our four-page Changemakers interview, for example, best-selling author, Mikaela Loach, shares her journey from teen activist to fighting for climate justice on a world stage, and discusses why young people are vital to the environmental movement. The 25-year-old explained: "When it comes to climate crisis, young voices in particular are so important. We are one of the most impacted groups in this world, and we are going to be impacted disproportionately by this crisis. It's so important that we do speak out, and realise that so many of the liberties and freedoms that we have now are because other people chose to be brave."
Also within Changemakers, Gregory Metcalfe, from Children's Parliament, explores a special project which is placing children's views at the forefront of AI implementation in Scotland, while in the Perspectives section, Henry Mathias, Head of Professional Standards and Practice at The Care Inspectorate, discusses the potential of the Bairns' Hoose model, which recovery, support and justice come together under one roof.
Further reading within this issue:
An interview with Kinny Gardner, Artistic Director of Krazy Kat Theatre, a professional children's theatre company committed to improving access to arts activities for deaf and disabled children through magical, visual-led productions that go far beyond the spoken word
Glasgow Women's Aid CEO, Angela Devine, celebrates 50 years of the organisation's hard work supporting women, while examining the issues facing girls and young women today
Ali Miller, from Shared Lives Plus, explores an innovative project, which enables parents with additional support needs to care for their child at home
Amy Hutton, Director of Services at Cyrenians, discusses Scotland's housing crisis
Children in Scotland's Head of Policy, Projects and Participation, David Mackay, shares how children and young people are speaking out on health-harming products
Marie Harrison, Senior Policy Officer at My Rights, My Say, explains how the service is putting young people's voices at the heart of its vital work.
With the theme of listening to children and young people's voices, it was also particularly special to continue our collaboration with students at Edinburgh College of Art. Using their creativity to explore the issues and ideas raised in three articles, as well as the edition's front cover, a group of fourth year illustration undergraduates showcase not only extraordinary talent, but impressive understanding and sensitivity.
'Insight' is a members' benefit, with copies included as part of full membership with Children in Scotland. A digital edition can also be accessed via the Member area (log in required).
Not a member?
Click here for more information about membership
Non-members are also invited to subscribe for just £10 per year. To find out more about a digital subscription, email Alice: ahinds@childreninscotland.org.uk