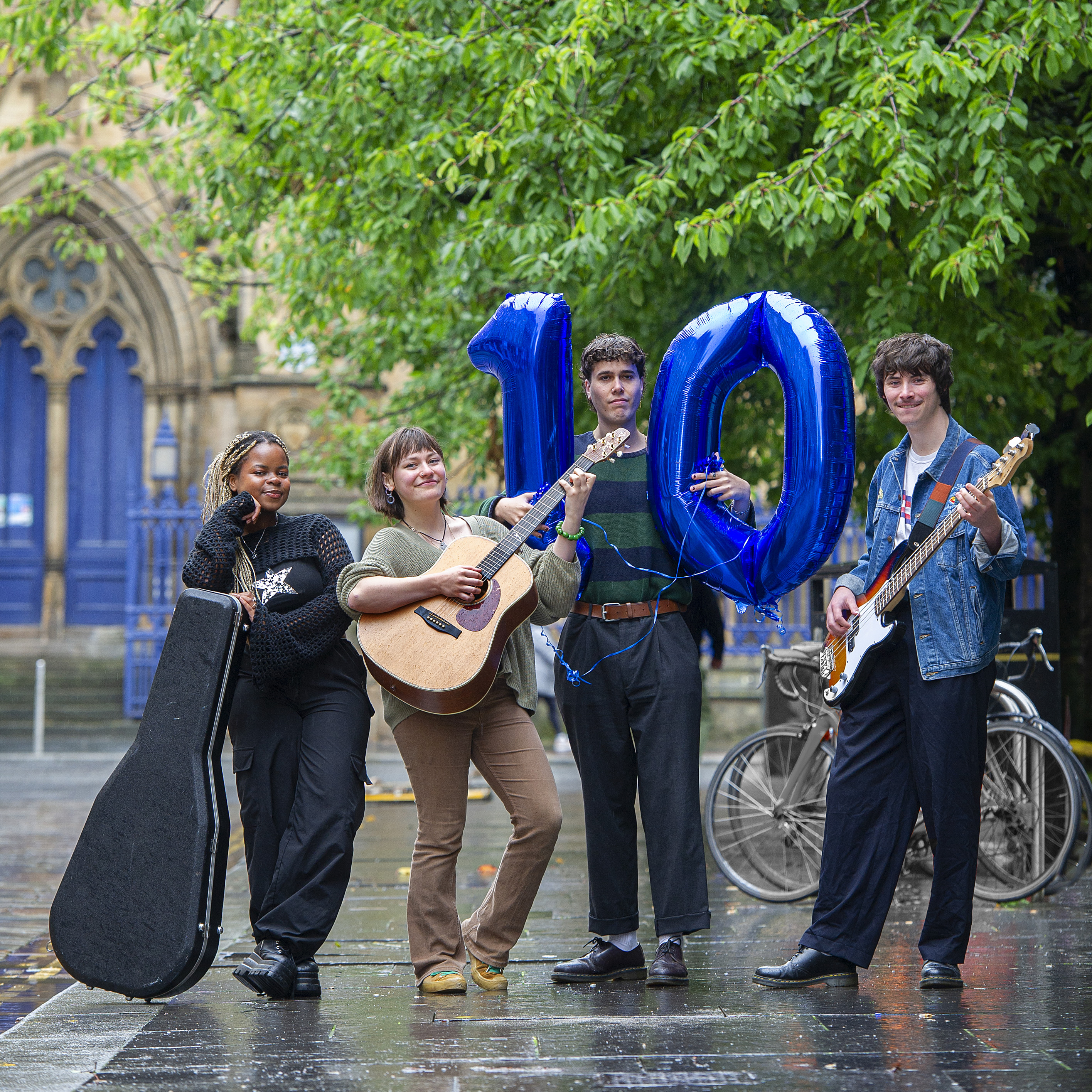 Young musicians invited to Hit The Road for 10th anniversary tour
Posted 21.09.23 by Alice Hinds
Celebrating 10 years of helping shape musical talent in Scotland, Hit The Road is inviting budding teenage artists to join them on a new anniversary tour
Launched in 2013, the project has supported more than 300 musicians across 120 live performances, delivering hundreds of industry sessions and helping aspiring young musicians to develop their talent and network with other artists.
Now, the initiative is encouraging musicians aged 14 to 19 to join its upcoming touring season, which will include performing at venues across Scotland, while also learning from seasoned industry professionals through a series of specialist workshops.
The workshops will cover a wide range of topics, from live sound engineering to stage production, equipping young artists with essential knowledge and skills for developing a career in the music industry.
Managed by the Scottish Music Centre and funded by the Youth Music Initiative (click here for more) via Creative Scotland and the PRS Foundation, the project has supported performers including singer-songwriter Lewis Capaldi and Perthshire-based pop-rock band Parliamo – and organisers hope to find Scotland's next music sensation as they open up applications for the new touring season.
"Reaching the milestone of a decade for Hit The Road is an incredibly proud moment for all of us who have been a part of this journey," explained the project's manager Michael Cassidy. "Over the past decade, we've witnessed the transformative power of live music on the lives of young people across Scotland, and it's incredible to see how far so many of them have come within the music industry.
"Hit The Road's primary objective has always been to provide budding artists with a stepping stone into the world of professional music, helping those who may not otherwise have the means to tour professionally and showcase their music to different audiences across Scotland.
"As we enter our tenth year, we are incredibly excited to discover and nurture new musical talent, and look forward to welcoming a new generation of artists ready to carve their own paths in Scotland's vibrant music scene. If you are between the ages of 14 and 19 and have a passion for music and live performance we would love to hear from you!"
Applications are open now for the next touring season of Hit The Road, which will take place between September 2023 and March 2024, with all gigs hosted in safe venues across Scotland which are suitable for ages 14 plus.
Due to the project's popularity, young musicians are encouraged to submit their applications early to avoid missing out.
For more information and to apply, click here to visit the Hit The Road website: www.hittheroad.org.uk
"Children and young people need better support to identify when a lawyer may be able to help uphold their rights, and where this is the case, they need easier access to highly skilled lawyers. Achieving this requires systemic and cultural change, and greater resourcing."
Not only did the Alright? project provide a creative output for the participating children and young people, it also shares an important message about the need for lawyers who care about the young people they support, and highlights that young people want lawyers who are able to communicate and connect.
Ruth Kerracher of Youth Justice Voices (click here for more) added: "The Rights In Justice project has been a key feature of Youth Justice Voices work. Young people involved in the project have been able to articulate what they need and want from lawyers.
"'Alright?' is a powerful output, it was co-produced with young people and really brings to life the importance of relationships, time and what lawyers can do to uphold children's rights. We hope that greater training is provided to ensure that support is age appropriate and children and young people understand the decisions or processes which impact on their lives."
Clan Childlaw was established 15 years ago to give children and young people facing adversity in Scotland their own lawyers, protecting and strengthening their rights, giving them a voice in decision-making that impacts their futures, and to improving their lives.
For more information, click here to visit the Clan Childlaw website: www.clanchildlaw.org/alrightanimation