Pupil Support Staff Learning Programme
March 2023-Present
Funding from The Promise Partnership's Keep The Promise Fund is providing us with the opportunity to deliver an exciting new project over the next two years.
We plan to develop and deliver a support and learning programme for pupil support staff using a co-production model – sounds easy, but we know it will take a lot of hard work!
The project will  build on the experience, expertise and passion of Children in Scotland and Enquire staff, children and young people with lived experience, and pupil support staff across the country.  
It will bring together several strands of work we've been involved in over recent years – meaningful participation, engagement and co-production, our contribution to the Independent Care Review, and providing pupil support staff with learning and development opportunities.  
The programme itself will be created using a truly collaborative and co-design approach with Children in Scotland staff and two working groups, that will remain involved throughout the project. One group will include children and young people with care experience and the other will include pupil support staff. The groups will work separately and together designing the programme, potentially delivering it, and updating and adapting it in light of feedback or changes.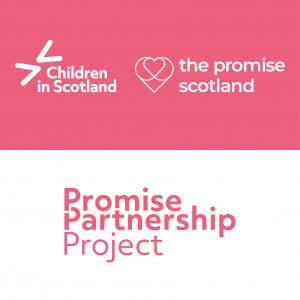 We envisage the project going through three phases:  
Creation of project identity and systems (March-June 2023) 

 

Exploration: Discover, Define and Develop (July-December 2023) 

 

Delivery: including evaluation and review (January 2024-March 2025).

 
There is, however, flexibility. The working groups, supported by Children in Scotland staff, will be making decisions about programme content and delivery plus timelines. One of the first tasks will be working with our in-house Designer, to help develop a project 'identity' – the one on this page is just an interim one!  
Initially, the Children in Scotland team will be made up of: 
Lizz Toomey, Learning & Events Officer 

 

David Mackay, Head of Policy, Projects and Participation

Simon Massey, Head of Engagement & Learning 

 
We will soon start recruiting to the two working groups and will be sharing information here on the website and across our socials using #CiSPromise so please keep an eye out.  
Alternatively, you can email ThePromise@childreninscotland.org.uk to express an interest in being involved or kept updated.