Manifestos, Macs and 'energetic' colleagues – my week with Children in Scotland

30 September 2019
Ellie, a member of our children and young people's advisory group, was with us on work placement for five days in September. Here she describes the highlights and challenges…
My name is Ellie and I am a 15-year-old from Winchburgh, West Lothian. I am lucky enough to have been part of Children in Scotland's advisory group, Changing our World for more than two years. When the time came for me to become acquainted with the world of work, I thought, "what better place to go than Children in Scotland, a charity with young people at its heart?"
Throughout my first seven-hour day I was introduced to nearly everyone in the office, and they couldn't have been more welcoming. I was set to be working in the Communications team, sitting next to the rather energetic Policy, Projects and Participation department.
Ceremoniously, my work experience pack was handed over to me, full to the brim of important-looking pieces of paper, alongside my password for the rather intimidating Mac computer (after a rocky start featuring the exchange of a few angry words, I am pleased to report we accepted each other's differences).
My first task consisted of compiling news articles related to children and young people that were to be featured in the Daily News bulletin, sent out to Children in Scotland's members. After doing this job every day for a week, I can confirm that reading the news is surprisingly enjoyable!
By Wednesday, the effects of work life were starting to take their toll on me, but nevertheless the anticipation of attending the all-staff meeting kept me going! I had the chance to hear about the many different projects going on and I even contributed some ideas on how to refresh Children in Scotland's manifesto. I also had a chat with Simon Massey, current joint acting CEO, to discuss what the job entails and the impact Children in Scotland has on, well, everyone (spoiler alert: it's a big one).
However, my favourite job was writing a response to the 25 Calls campaign on why the voting age should be lowered to 16. My article will be published soon, and it's great to see how although I only worked in the comms team for a week, the work I have done will be used for ongoing purposes.
Nearing the end of my week, I became accustomed to the packed hourly bus ride and could even remember my log-in password to the computer off by heart, which is a big accomplishment for someone who rarely knows what day of the week it is.
Over the course of the week, I met with five different members of staff to discuss their work, which opened my eyes to the variety of roles within an organisation like Children in Scotland. I can also report that every role appears equally as enjoyable (and stressful) as each other.
Overall my experience working with Children in Scotland has been immensely rewarding and I have acquired skills that can be applied back in the long-forgotten land of school. It was reassuring to see that offices aren't just men in grey suits sitting in isolated cubicles, they can be relaxed and friendly too.
The idea of working in a Communications and Marketing department had never crossed my mind before, although now I would definitely be interested in pursuing something along those lines in the future.
I can't thank everyone enough for the experience I have gained whilst working at Children in Scotland – it has been invaluable.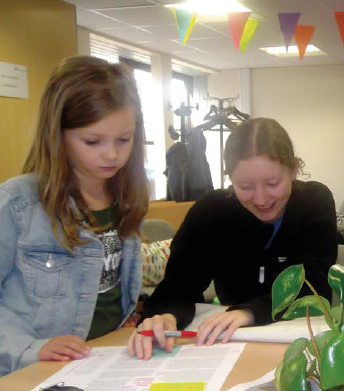 Changing our World
Find out more about Changing our World, our children and young people's advisory group
Meet the team
Find out more about our Participation and Engagement staff and the work they do
Vision & values
These guide everything we do – find out what they are
5Rights
5Rights takes the existing rights of children and young people, and articulates them for the digital world