CHANGE: Childcare and Nurture, Glasgow East
CHANGE (2016-2020) worked to create improved childcare for communities in the East of Glasgow. Led by Children in Scotland, the project was funded by the National Lottery Community Fund.
It was informed by community engagement and relationship-building with children, families, professionals and organisations across Calton and Bridgeton, Parkhead and Dalmarnock and the Tollcross and West Shettleston neighbourhoods.
The project developed a number of workstreams that looked to increase the availability and accessibility of childcare, and to create more flexible childcare options in response to the needs of local families.
The work done by project staff was underpinned by the CHANGE Hub, a network of professionals working in a range of services across the area, supported by the Children and Young People's Improvement Collaborative.
The Hub carried out some tests of change including low-cost food provision, access to information for families and the impact of mental health support on the uptake of holiday provision.
The CHANGE project concluded in December 2020, with a final report and animation with key findings released in February 2021.
For more information contact: pppteam@childreninscotland.org.uk
A series of infographics with themed findings from the CHANGE
project. Click an individual image to open it full screen.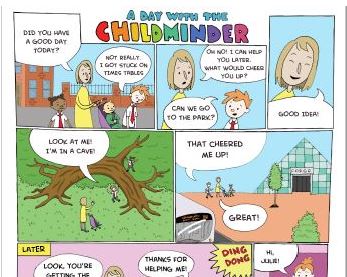 Childminder resource
Explore children's thoughts and opinions about Childminding and what makes a good Childminder
Find out more