Annual Conference 2022: Behind the scenes with Changing our World
Our children and young people's advisory group, Changing our World (CoW), attended Children in Scotland's Annual Conference in November this year.
We talked to members of the group about what they did at the conference, the workshop they led on concerns about e-cigarettes and vaping, and what they enjoyed most about the event.
How CoW got involved at the conference
Four members of Changing our World attended the conference on day 1.
Mhairi: On the first day, we helped with registration and setting up the stalls, giving people name badges when they arrived and making new ones for those who didn't have one. An important part of the job was telling people where they could find the coffee!
Shuman: We then went for a walk around the exhibition hall, and watched Anna make her keynote speech. She was really good, because it was obvious that she's really passionate about children's rights and she didn't show any nerves. 
Anna: Being in front of everybody, with a sea of chairs... I was absolutely shattered but it was really exciting and a great opportunity. So much happened, it flew by.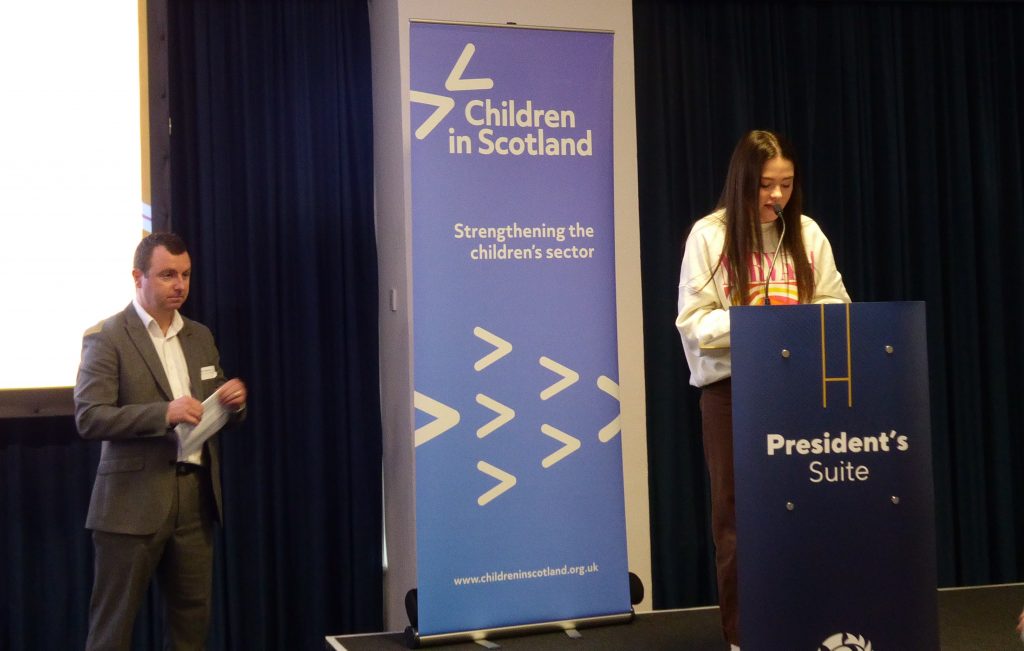 Shuman: We also interviewed people, asking them what they were looking forward to and what their takeaways were so far. We walked around the stalls and learnt about the different charities. At the end, after the last speeches, we got to see the drawings that the art college students had drawn.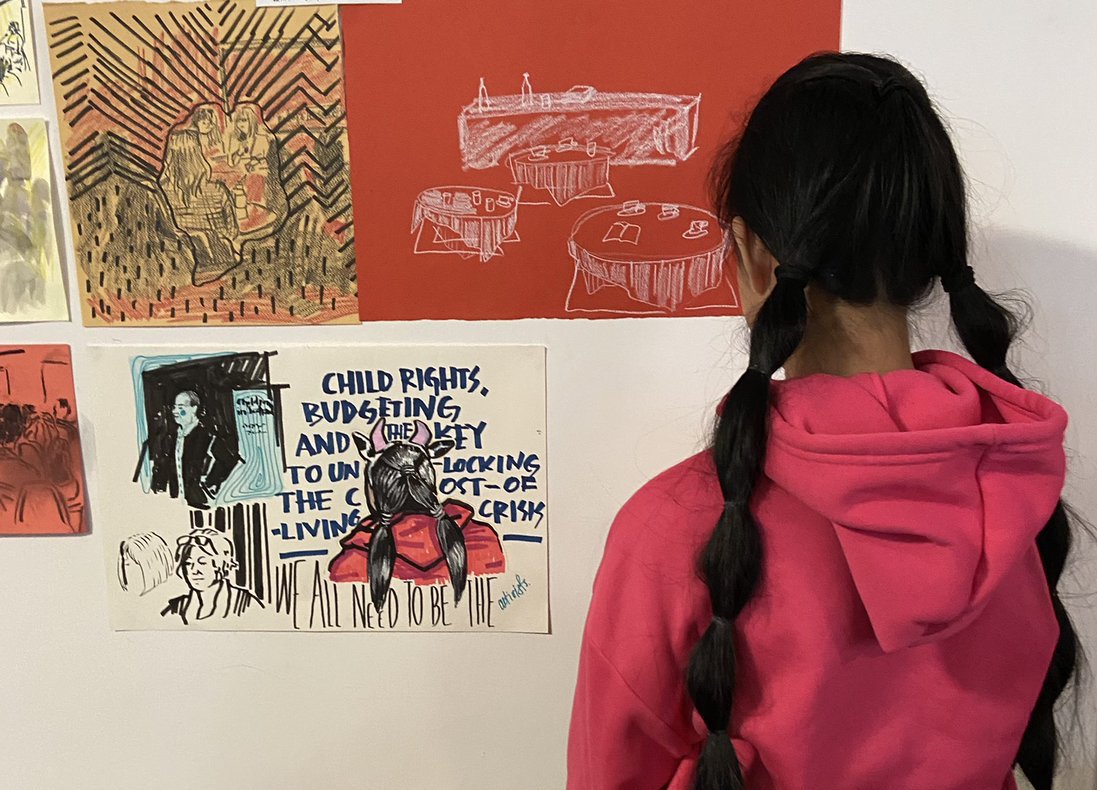 Nine members of CoW attended the conference on day 2, where they were again part of the welcome party at the start of the day. They also attended keynote speeches and visited the stands in the exhibition hall. Some members attended workshops, one on music, engagement and wellbeing with Nordoff Robbins and one on youth-led arts funding with Creative Scotland.
Six in the group also delivered their own workshop, sharing their concerns around vaping and e-cigarettes with support from Laura from Fast Forward.
The CoW workshop on vaping and e-cigarettes
In a workshop titled 'E-cigarettes and vaping: Our concerns and solutions', members shared issues relating to five subject areas that  CoW had discussed collectively at meetings.
Roderick talked about issues around marketing
Olive talked about health impacts
Marcus talked about environmental issues
Olive and Oscar talked about education around vaping
Safiyah finished by talking about peer issues.
They then shared potential solutions that CoW members had suggested, and co-host Laura from Fast Forward gave further information from research. Workshop attendees were encouraged to discuss other potential solutions and pledge changes that they would make in their own spaces.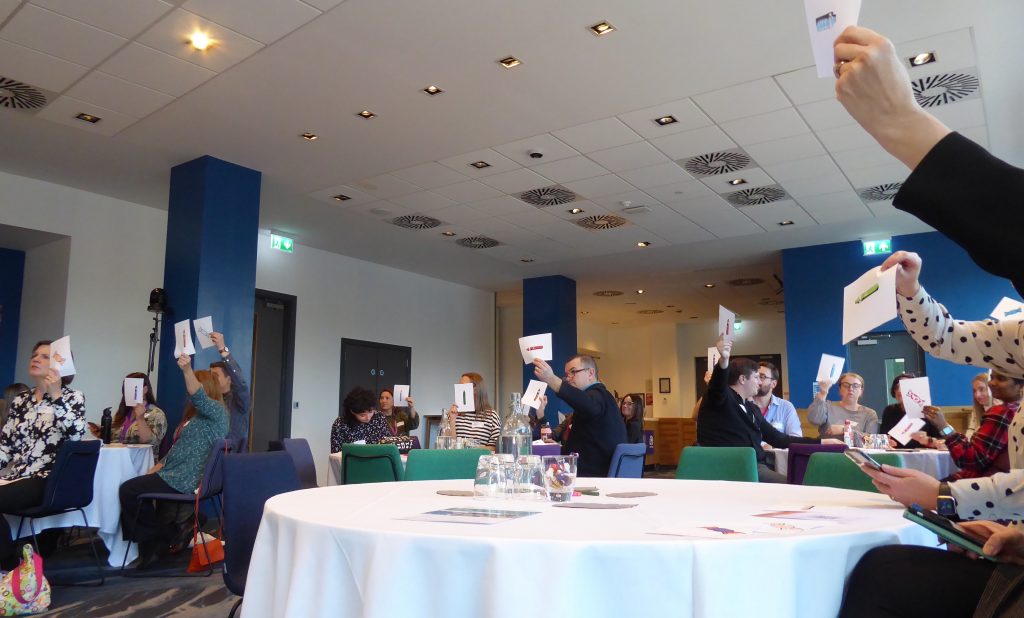 The workshop started with an icebreaker called Sweet or Vape? where names were presented and attendees were asked to vote on whether it was the name of a sweet or a vape, by holding up a picture of the object they thought it was. 
While they couldn't attend the workshop themselves, CoW members Mhairi and Shuman talked about what concerns them the most about vaping while they prepared the icebreaker cards in a quiet moment on day 1.
Mhairi: For me it's the environmental impact, especially since so many vapes are disposable and the materials are not reused. They contain precious metals that we don't have infinite supplies of, like the lithium used in batteries. 
Shuman: My biggest concern is that it doesn't just affect the person who is vaping. It affects all those around them as well, like second-hand smoking with cigarettes. 
Mhairi: There's that immediate health impact for the individual, and the long-term impact of plastic pollution when people dispose of them.
It's like mobile phones, people are encouraged to get new upgrades all the time, and then leave the old one sitting in a drawer. There are valuable materials in there that could be used elsewhere. Vaping and mobile phones... they're part of a bigger picture of using valuable resources more responsibly and more sustainably. It's a societal level issue, not just individual.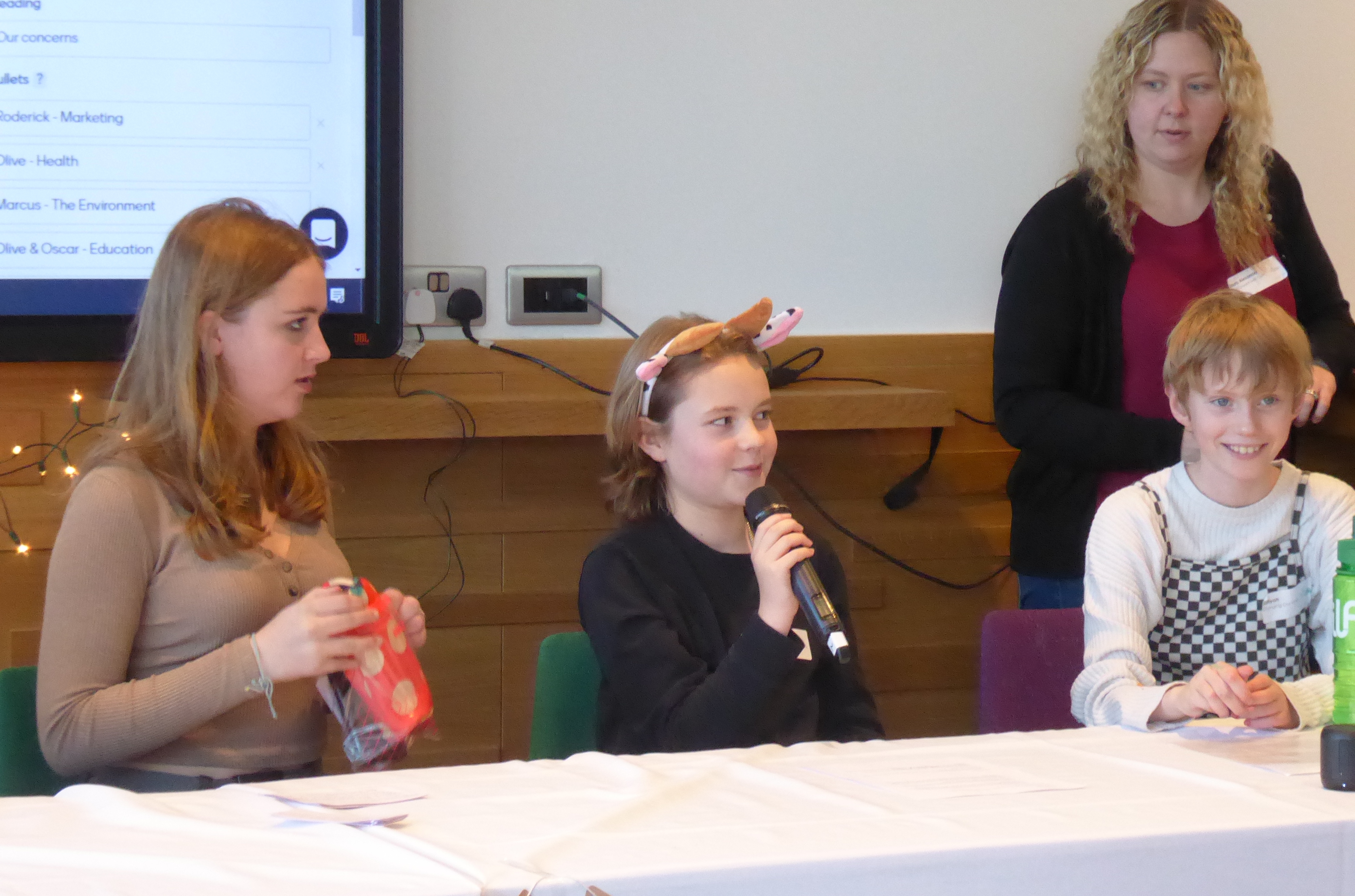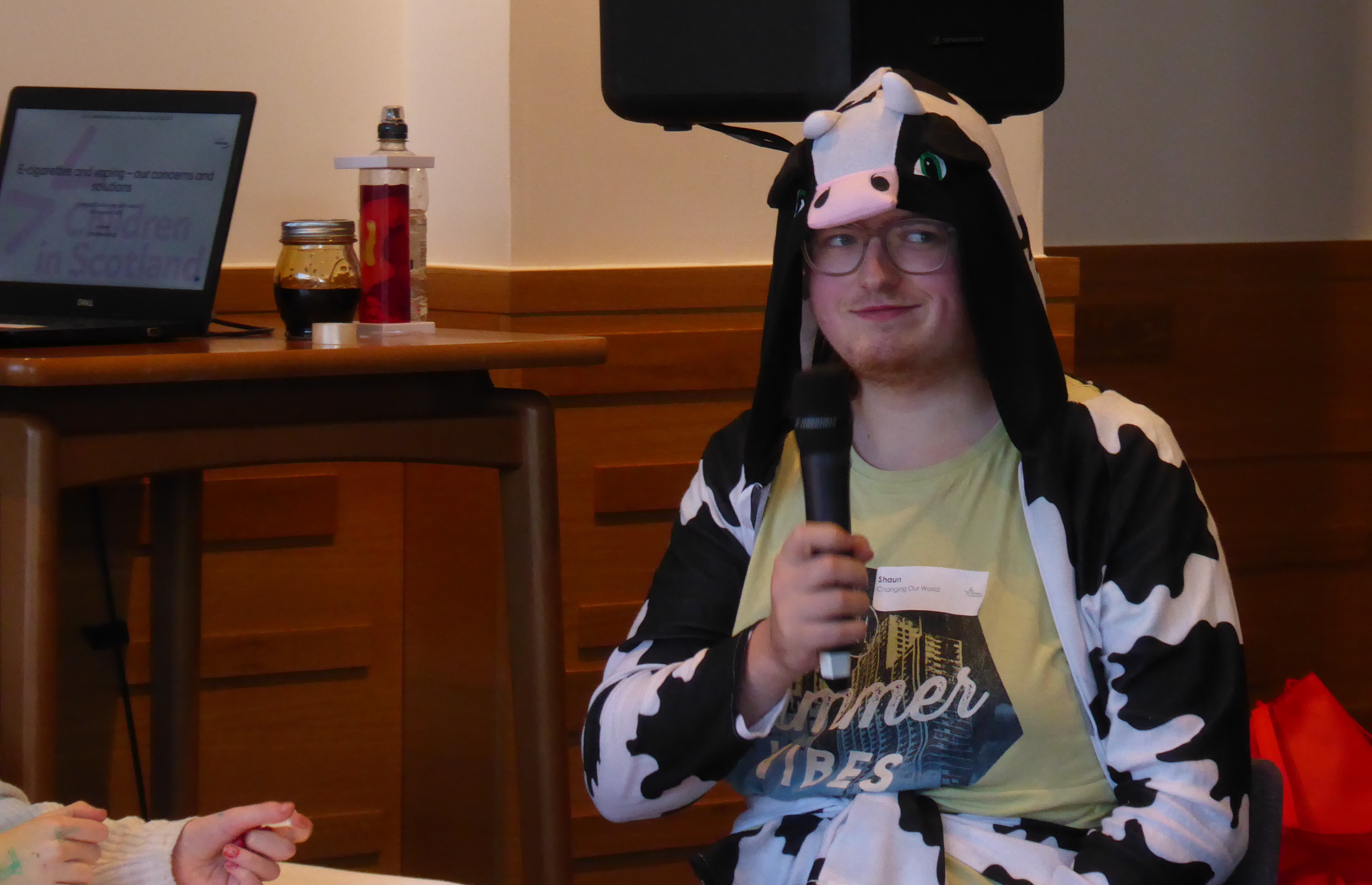 Oscar: I definitely really enjoyed doing the workshop. Presenting – I liked that.
Olive: I really liked the speakers on day 2, they were really good. Samie Mansoor on racism in schools in the morning, and Jordan Daly in the afternoon, on inclusive education. That was really interesting.
Safiyah: All of it. I still have all the pens, and I got four water bottles (I gave one to my sister and one to my dad). 
Kaydence: It was lovely to speak to people.
Shuman: It was good to get feedback and learn what we should bring next time for the Changing our World stand. I made a quiz this year to test people's knowledge on cows (a conversation that came from CoW meetings), and we'll be back next year with even more.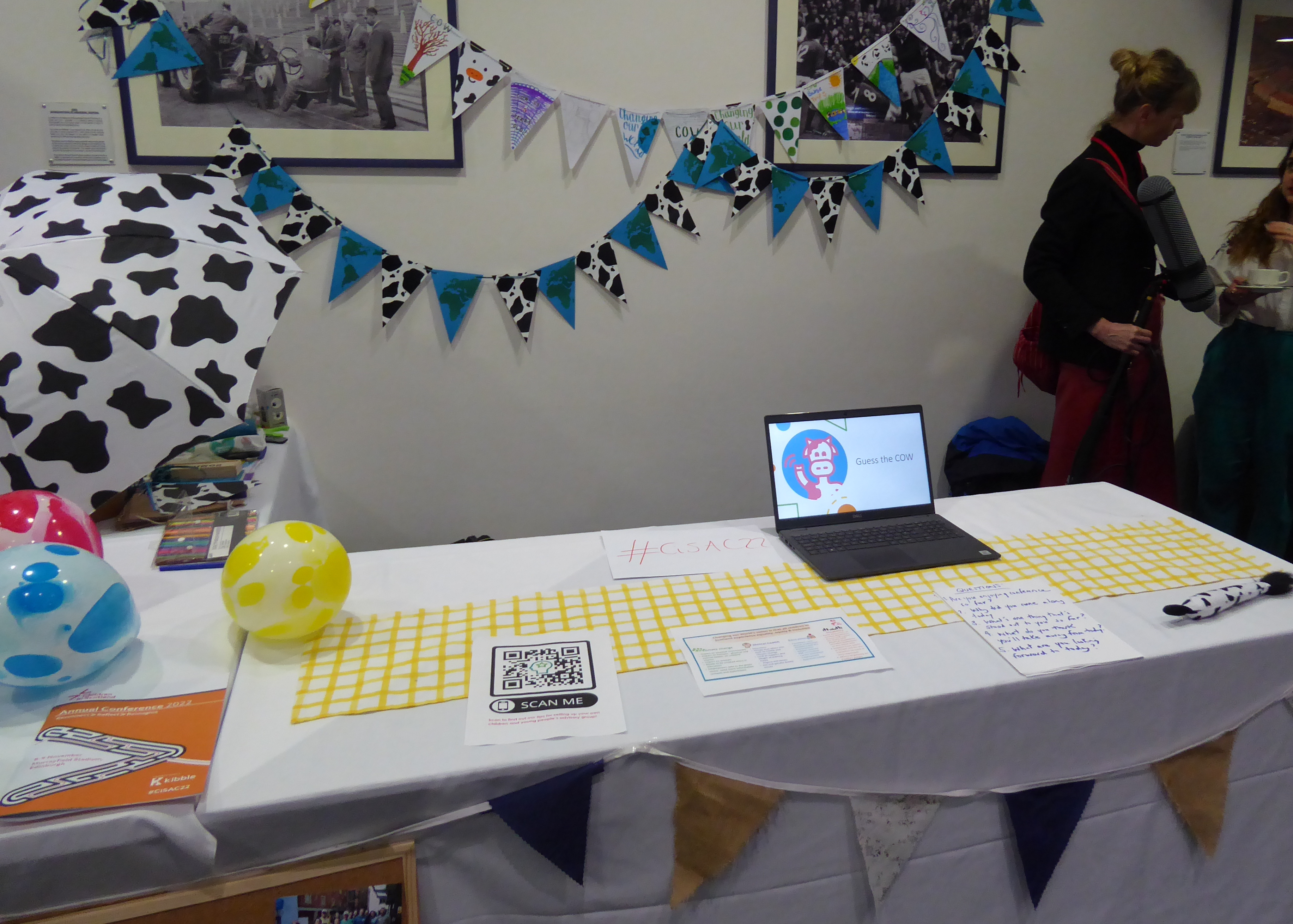 Mhairi: It's really different to previous years at the conference. Some things are the same, some things are different. There are lots of new organisations and staff here. It's been good to see lots of new people that we don't usually get to meet or hadn't yet had the chance to.