Pupils' views in the spotlight, as exciting education initiative gets underway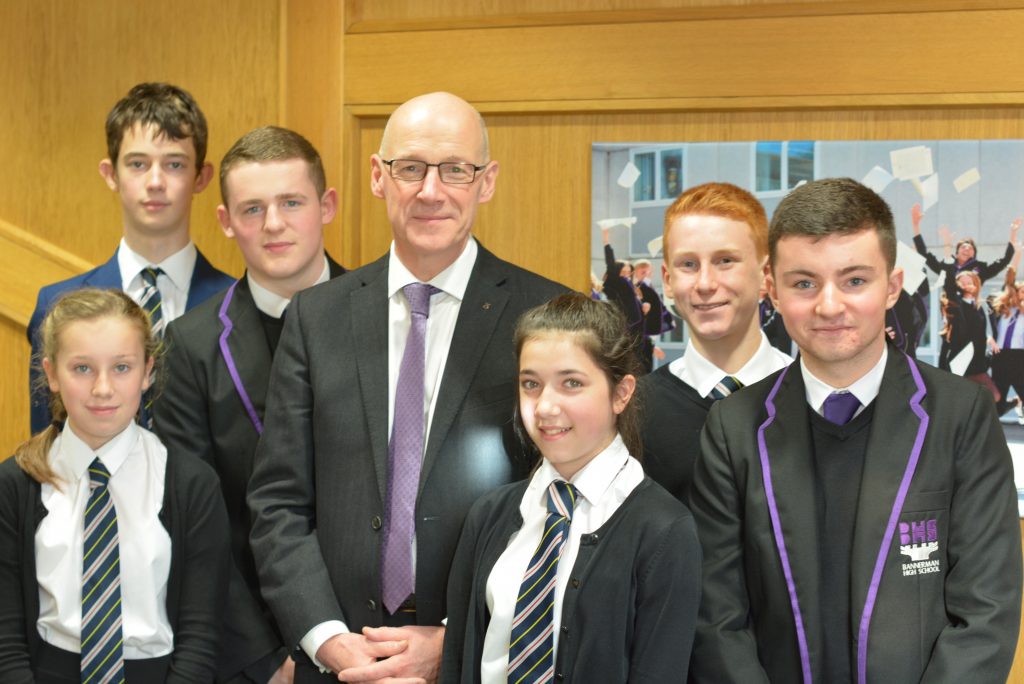 Children and young people will have more of a say in their education, thanks to a new Learner Panel that has been launched today with Deputy First Minister John Swinney at the Scottish Parliament, as part of the Scottish Government's Year of Young People 2018.
The Learner Panel for Scottish education, will strengthen the voice of children and young people in the development of national education policy and practice. The development of the panel will be supported by four leading children and young people's organisations; Children in Scotland, Young Scot, Children's Parliament and Scottish Youth Parliament.
The panel will be made up of approximately 30 children and young people from nine school settings, including nursery, primary and secondary schools from across Scotland. It will provide opportunities for children and young people (age 3-18 years) to share their expertise, experiences and views to shape educational policies on a local and national level.
Deputy First Minister John Swinney said: "Involving young people in education decision making results in fresh new perspectives and policy ideas while also improving attainment significantly.
"That is why the Scottish Government is committed to strengthening the voice of young people and empowering them to have a say in how the system is shaped. It is our learners who are most affected by education policies in Scotland so it is only right that they are included at every stage of the process, not as an 'add-on' but as partners.
"The Year of Young People is all about giving young people a stronger say on the issues affecting their lives and the new Scottish Learner Panel will help make that happen. It will provide an opportunity for young people all across Scotland to help shape school, local and national level education policies, highlight key issues and suggest new and creative ideas and proposals. I look forward to working with them and receiving their final report and recommendations."
On behalf of the partnership, Louise Macdonald, Chief Executive of Young Scot, said: "The Year of Young People aims to give young people a stronger say on issues affecting their lives, and this Learner Panel does exactly that. By listening to the voices of young people, the Scottish Government, the Scottish Youth Parliament, Children's Parliament, Young Scot and Children in Scotland are affirming their commitment to young people during this landmark year, and beyond.
"By placing the voice of young Scot's at the heart of our education system we are ensuring that we build a future that is more vibrant, skilled, and confident. We all want Scotland to be the best place in the world for a young person to grow up – and an education system with their voice at the heart, we can truly make that happen."
The panel will meet five times between October 2018 and March 2019, with a final report that will bring together the recommendations of the panel based on the research they have engaged in throughout the project.
Year of Young People 2018 (YOYP 2018) aims to give young people a stronger say on issues affecting their lives.
About Children in Scotland
Giving all children in Scotland an equal chance to flourish is at the heart of everything we do.
By bringing together a network of people working with and for children, alongside children and young people themselves, we offer a broad, balanced and independent voice. We create solutions, provide support and develop positive change across all areas affecting children in Scotland.
We do this by listening, gathering evidence, and applying and sharing our learning, while always working to uphold children's rights. Our range of knowledge and expertise means we can provide trusted support on issues as diverse as the people we work with and the varied lives of children and families in Scotland. www.childreninscotland.org.uk
About Young Scot
Young Scot is the national youth information and citizenship agency for Scotland, and currently has a membership of over 650,000 young people across Scotland.
Young Scot provides all young people in Scotland aged 11-26 with information, ideas and incentives to enable them to make informed decisions and choices, turn their ideas into action and take advantage of opportunities available throughout Scotland and Europe.
young.scot– The national youth information portal for Scotland
youngscot.net- Young Scot's corporate website
About the Scottish Youth Parliament
The Scottish Youth Parliament (SYP) represents Scotland's young people. The charity's vision for Scotland is of a nation that actively listens to and values the meaningful participation of its children and young people. SYP's goal is to make this vision a reality, in order to ensure Scotland is the best place in the world to grow up.
A fundamentally rights-based organisation, SYP's mission, vision, and values are grounded in the United Nations Convention on the Rights of the Child (UNCRC). In particular, Article 12 - "Young people have the right to express their views freely and have their opinions listened to in all matters affecting them" - is at the heart of all work carried out in SYP's name.
As a completely youth-led organisation, the words and sentiment of Article 12 have profound importance for SYP's work. The charity's democratically elected members (MSYPs) listen to and identify the issues that are most important to young people, ensuring that their voices are heard by decision-makers. SYP exists to provide a national platform for young people to discuss the issues that are important to them, and supports them to effectively campaign for the change they wish to see. SYP was a key voice in the campaign to bring the voting age in Scotland down to 16, and played an integral role in the passing of the Marriage and Civil Partnerships Bill (Scotland) in 2014.
Politically impartial, SYP works with stakeholders, groups, individuals and representatives across the political spectrum who share the charity's values, to enable SYP to deliver the policies that are important to Scotland's young people.
About Children's Parliament
Children's Parliament is Scotland's Centre of Excellence for children's participation and engagement, working with children from the early years to age 14. We work for a future where all children in Scotland are actively engaged in shaping our world so that everyone is healthy, happy and safe. We believe that all children should live and grow with dignity and be valued for what they can offer the world. We provide children with opportunities to share their experiences, views and ideas so that they can influence life at home, at school and in the community, through change at a local, national and international level. Across our work, we use a children's human rights approach grounded in the principles and values of the UN Convention on the Rights of the Child.
Year of Young People 2018
A global first, YoYP 2018 is a part of the Scottish Government's themed-year programme which focuses on celebrating Scotland's greatest assets.
A year-long programme of events and festivals is taking place across the whole of the country for all ages to enjoy, led by EventScotland, part of VisitScotland's Events Directorate. More information at:www.visitscotland.com/yoyp2018* Historic Environment Scotland's Knight at the Castle event is supported by the Year of Young People 2018 Event Fund, managed by EventScotland, part of VisitScotland's Events Directorate. EventScotland is working with the events and festivals sector to develop an exciting portfolio of Year of Young People 2018 public-facing events which provide opportunities for young people to express themselves through a wide range of activity.
Local authorities, schools, youth groups and organisations are running their own YoYP 2018 activity. Search #YOYP2018 on Twitter for the latest news.
Young people co-designed the Year. A group of young leaders, Communic18, lead on all key decision making. More than 380 Ambassadors are championing activity.
The Year is delivered in partnership between the Scottish Government, VisitScotland and EventScotland - part of VisitScotland's Events Directorate - Young Scot, Scottish Youth Parliament, Children in Scotland, YouthLink Scotland and Creative Scotland. * More information can be found at yoyp2018.scot, searching @YOYP2018 or #YOYP2018 on Twitter, or by emailing yoyp2018@gov.scot