National Third Sector GIRFEC Project
The National Third Sector GIRFEC project is a new partnership between Children in Scotland and the Coalition of Care and Support Providers in Scotland (CPPS) to support local and regional third sector organisations navigate the challenges and opportunities of children's services in order to deliver improved outcomes for children, young people and their families.
The programme focuses on three outcomes: 
Connecting
Increased collaboration and connections are developed among third sector organisations, and between third sector organisations and the local, regional and national children's sector.
Influencing
There is greater understanding by statutory partners and policy makers of the third sector contribution to children's outcomes in local communities.
Engaging
Third sector organisations and the children, young people and families they serve are better engaged in service design and delivery.
The National Third Sector GIRFEC Project was first launched in early 2013 to embed the third sector's role in implementing the Getting it right for every child policy and requirements of the Children and Young People (Scotland) Act 2014.
During the first 3 years, the project gathered and reviewed information about how children's services are planned and delivered, and explored with local partners how this could be improved. From 2016 onwards, the project focused on developing local engagement mechanisms which enable the third sector to strengthen their collective identity and increase their participation in local children's sector activity.
Since the inception of the project in 2013, the external context has changed significantly. To reflect this changing environment, the project outcomes and activities were refreshed recently. They now extend beyond specific aspects of the Children and Young People (Scotland) Act 2014 to the wider children's services landscape.  This new partnership with strategic alignment to the refreshed outcomes and activities is formed to embed the system change sought over the longer term.
For more information, please contact Louise Wright, lwright@childreninscotland.org.uk
Sign up to receive our news round-up and monthly e-bulletin here.
Stay connected with the work of the team on Twitter @NTSGirfec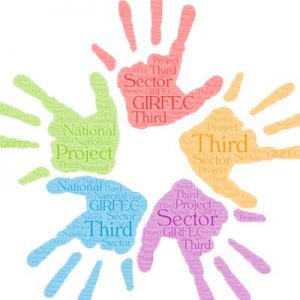 An Introduction to Wellbeing
An interactive tool that helps people to understand how their work contributes to children's wellbeing
Find out more
Children's Services Promising Planning Examples
The Promising Planning document supports effective collaboration between third sector and planning partners.
Find out more
Wellbeing Bingo
A game that can be used by practitioners to support young people to understand the concept of wellbeing.
Learn more
Issues Papers
Thematic papers on topics that are relevant to children's services planning and delivery.
Access the papers