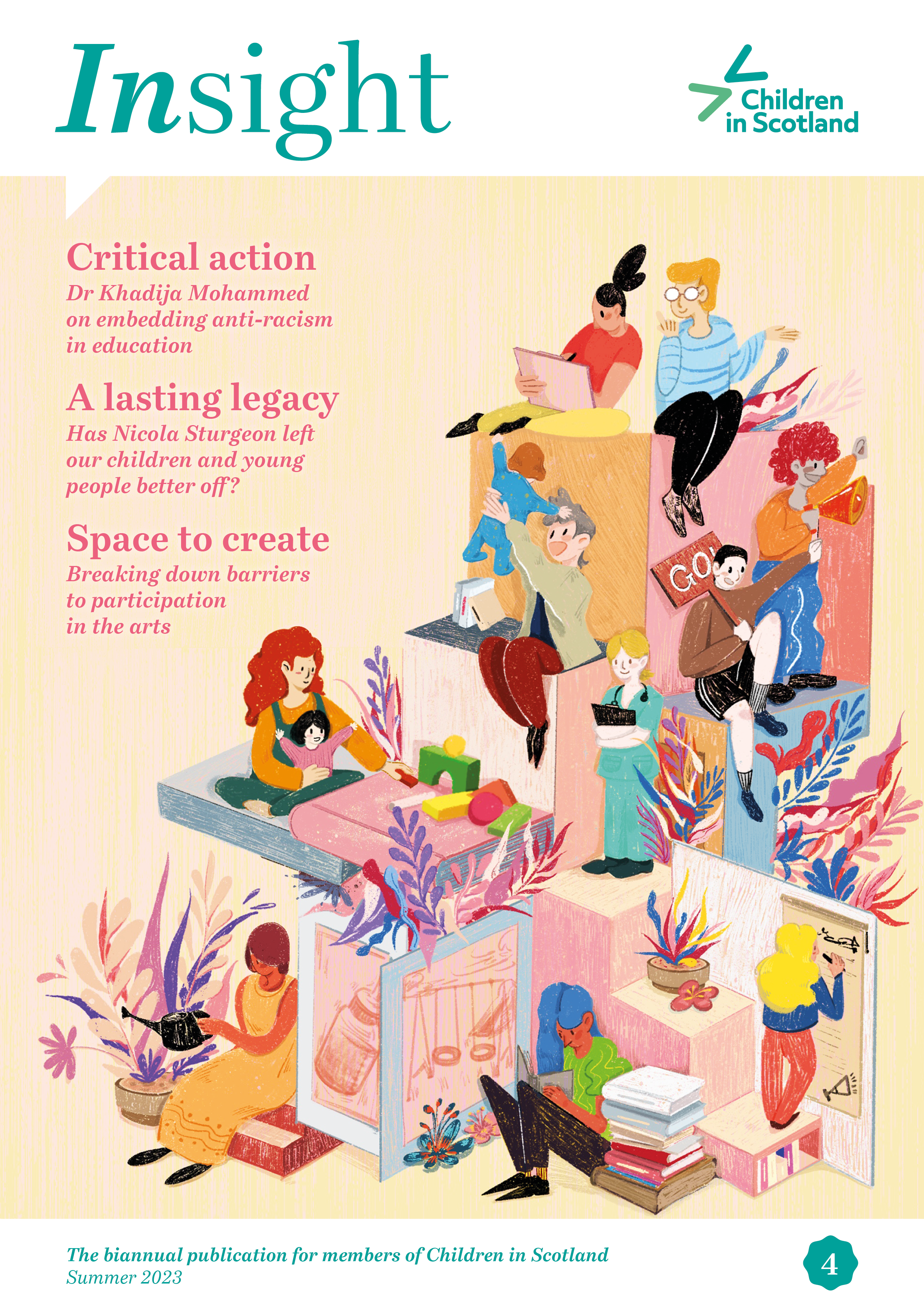 Issue 4 (Summer 2023)
Published April 2023
In this edition, we are delighted to extend our Changemakers section to include an interview between our children and young people's advisory group, Changing our World, and the outgoing Children and Young People's Commissioner Scotland, Bruce Adamson. Within that conversation, Bruce talks about "creating an amazing culture of children as human rights defenders" and this message of celebrating positive change led by children and young people is carried across our interviews in this edition.
Within 'Learning & Projects', we focus on support for young people's mental health and Children in Scotland's involvement in the Suicide Prevention Strategy & Action Plan, while the contributors to our 'Perspectives' section share views on the legislation we need to see now to improve the lives of children, young people and families in Scotland.
In this issue:
We interview Dr Khadija Mohammed, Associate Dean for Equality, Diversity and Inclusion at the University of the West of Scotland, former primary school teacher, and Chair of the Scottish Government's Anti-Racism in Education Programme about the importance of embedding a meaningful understanding of racism across the curriculum and beyond
Our children and young people's advisory group, Changing our World, interviews Bruce Adamson, Children and Young People's Commissioner Scotland about the highs and lows of the job as he prepares to leave office
We talk about levelling the playing field in the performing arts with theatre-maker Rachel-Jane Morrison
Amy Woodhouse discusses the complicated legacy of Nicola Sturgeon and her record on improving the lives of children and families
Dr Alison Scott explores approaches to supporting mothers whose children have been removed into care
Raza Sadiq challenges the Illegal Migration Bill as an assault on human rights.
We are also delighted to continue our partnership with the Illustration department at Edinburgh College of Art, showcasing work from students on the MA Postgraduate programme.
Insight is a members' benefit, with copies included as part of full membership with Children in Scotland. A digital edition can also be accessed via the Member area (log in required).
Not a member?
Click here for more information about membership
Non-members are also invited to subscribe for just £10 per year.
To find out more about a digital subscription, email Alice: ahinds@childreninscotland.org.uk