In-house training: CPD created for you
Sending individual staff members across the country to attend CPD training can be difficult, time-consuming and expensive.
In-house training offers professional development created to suit you and your team best.
Bespoke events are an excellent way to improve the knowledge, skills and performance of your team at the same time and make the most out of your CPD budget.
Because every training event is unique, costs for commissioned events can vary.
To help you with your budgeting and financial planning, please find below estimates for some of the options.
What learning solutions are on offer?
We can deliver bespoke learning and development solutions, working directly with you and our trainers to assess your organisation's objectives and key learning needs. We can develop a training and development programme for you from scratch to help you achieve them.
We also run a range of regular open schedule CPD training events, seminars and study visits which we can adapt in length, content and focus to suit your particular objectives and key learning needs.
The list below and following pages will showcase a range of commissioned events we have run in the past:
An individual training event on a topic of your choice to increase your team's skills, knowledge and confidence
We can deliver half-day, full-day or multiple day training events for groups of all sizes focusing on a topic of your choice on a day that suits you best. Our trainers work directly with you to develop content and tailor materials to your needs.
• Full-day (9.30-15.30) training course for up to 20 delegates:
From £895 for Children in Scotland members;
From £995 for non-members.
Costs include all trainer fee and expenses, as well as administrative costs, materials and reporting.
A partnership event to help you to extend your visibility and grow your network
With our skills and expertise in event management, including delivering international conferences, we can help you plan and deliver your own event, while enabling you to access our multi-disciplinary network and promote your services to others in the children's sector.
• Half-day event with Children in Scotland support to: liaise with venue, support programme planning, market the event, process bookings, liaise with speakers and delegates, prepare and print materials, support the event on the day, provide evaluation report.
From £3,500.
Long-term learning and development plan for continuous professional development
We can develop a long-term shared training programme for your staff to further enhance and develop skills and knowledge on issues relevant to you. We can help you identify learning needs, find appropriate trainers, and lead the evaluation and assessment of effectiveness and impact.
Costs are calculated per event and are priced similar to individual training events.
Study visits to learn from others in the sector
Learn from other countries about education, childcare and society. We can arrange study visits to a range of countries in Europe and beyond.
Four-day study visit for group of up to 20 people including return flights, accommodation with breakfast, public transport at the destination, two Children in Scotland staff members to accompany the group, programme of visits tailored to your group's needs:
From £1,000 per delegate.
Looking for something else?
Talk to us about what it is you're looking for – we're here to help.
Contact us
For more information or to have an initial chat about in-house training, please email events@childreninscotland.org.uk.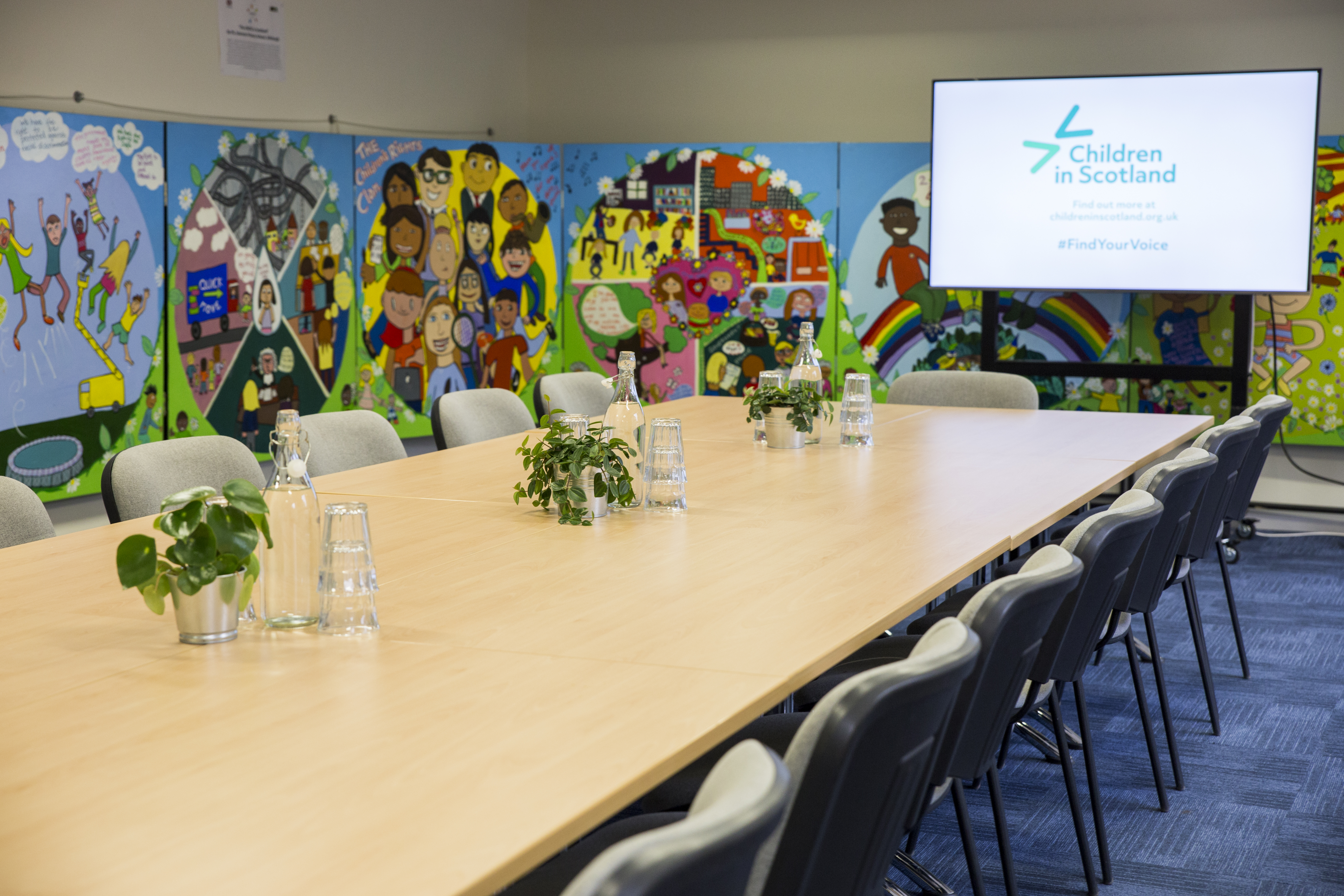 Key facts
Find out more about the benefits of in-house training for you and your organisation
Click here
Long-term learning
Find out more about how we can help you develop a long-term training programme for your staff
Click here
Partnership event
Find out more about what we can offer to help you plan and deliver your own event
Click here
Study visit
We can help you undertake study visits on the theme and to the destination you are interested in
Click here