Health Inequalities: Participative Research with Children and Young People
Children in Scotland has been funded by the Wellcome Trust to carry out a participative research project with children and young people aged 10-18 living in areas of high deprivation in Glasgow and Dundee.
The project will explore how community and place impacts on the health of children and young people and the choices that they make about this.
Professor Niamh Shortt puts the project in context.
Research findings animation – by Kael Onion Oakley
The main aims of the project are to:
Understand how social determinants of health impact on children and young people at a community level and drive health inequalities.
Develop a set of recommendations for use by both local and national policymakers to create communities that support better health and wellbeing and help reduce health inequalities.
Children in Scotland will work with 16 young peer researchers throughout the project to explore these issues. The project will work with two research groups:
Kids in Charge – Dalmarnock Primary, Glasgow
Dundee Dragons – Baldragon Academy, Dundee
The young peer researchers have now received participative training on health, wellbeing and health inequalities. The group will now  gather data from 40 of their peers about how their local area impacts on their health.
The focus of their research will be on:
Safety
Littering
Family and Friends.
After collecting initial data from their peers the young peer researchers will use this to conduct ethnographic field research. They will take case notes and visually document the factors they have decided to explore. They will be encouraged to think about how the different parts of their community impact on their health, and to identify why this might be.
Children in Scotland will support the young peer researchers to analyse the data, identify themes, offer solutions and make recommendations. The young peer researchers will then support the development of a report and a creative output that visually records their findings.
If you have more questions please contact Chris Ross, cross@childreninscotland.org.uk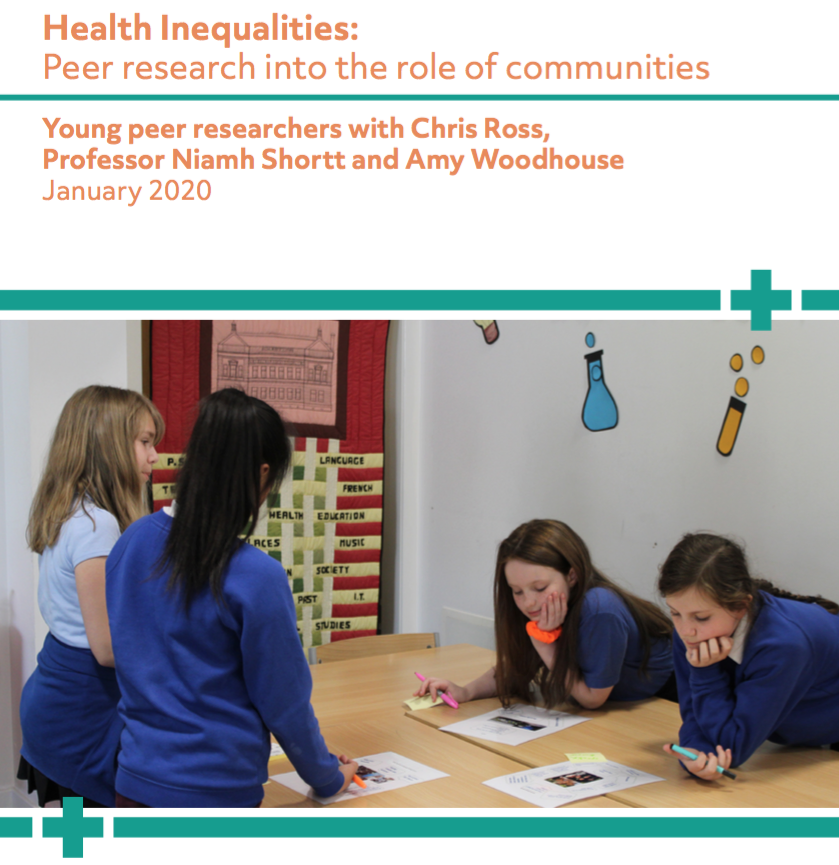 Health Inequalities: Peer research report
This report outlines the research undertaken by a group of young peer researchers
Download the report
Children in Scotland
Lead project team, with responsibility for delivering project outcomes.
Contact us