Children in Europe (2001-2012)
Children in Europe was a twice-yearly magazine for everyone working with and for children from 0-10 and those interested in children's issues. It was published simultaneously in 15 languages by a network of national magazines.
Children in Europe aimed to:
• provide a forum for the exchange of ideas, practice and information
• explore the relationship between theory and practice
• contribute to the development of policy and practice at European and national levels
• celebrate diversity
• recognise the contribution of the past to the present
• deepen understanding of childhood in Europe – past, present and future.
The magazine was part of Children in Scotland membership, and back issues are still available to our members as downloadable PDFs.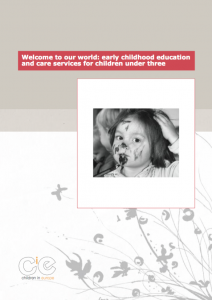 Children in Scotland also co-ordinated and hosted an annual Children in Europe conference, which focused on key areas including arts and culture and language learning across Europe.