A safe sleep, for every sleep
11 March 2021
Safe Sleep Scotland, run by the Scottish Cot Death Trust (SCDT), will be discussing how you can ensure the safest sleep for your baby, as part of Children in Scotland's upcoming Learning Week. Sarah Neary, Education Manager at the Trust, explains more
One of the Scottish Cot Death Trust's core aims is to help bereaved families who have experienced the sudden and unexpected death of a baby or young child. SUDI (sudden unexpected death in infancy) and SUDC (sudden unexpected death in childhood),
SIDS and cot death are terms often used. Through the provision of support services such as dedicated one-to-one support with a professional bereavement support worker, counselling, and befriending, we are here for every family affected by these tragic deaths, including parents, grandparents, and siblings.
A healthy baby or young child dies suddenly and unexpectedly every nine days in Scotland, and Safe Sleep Scotland enables the Trust to reach out to another audience of carers and professionals so that together we can reduce the risks associated with many of these deaths and prevent those that are sleep related accidents.
During Family Friday (26 March) of Children in Scotland's upcoming Learning Week, we will be pleased to provide you with detailed content which you can share with friends, family, and colleagues about Safe Sleep.
This will include the most up to date evidence-based Safe Sleep advice, a discussion about which baby products are suitable for unsupervised sleep, and a chance to see our new resource.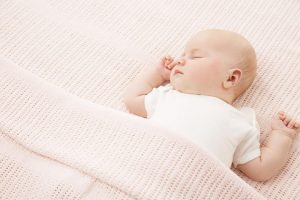 The Safe Sleep messages are widely known and by following them, you can reduce the risk of SUDI.
What are the safe sleep messages?
Back to sleep – always make sure I am put on my back when I'm asleep
My cot should be firm and flat – I should never sleep in a seated position
Clear my cot – no teddies, bumpers or pillows, just me!
Feet to foot – make sure I am at the bottom, and not the top, of my cot
Tuck me in (I need a correct size and tog rated sleeping bag or have my arms over my blanket)
Check the room temperature is 16-20C
If I use a dummy or I'm used to being swaddled, make sure this is consistent for every sleep
No smoking – in the car or in my home
Never fall asleep with me on a sofa or armchair
Avoid letting me sleep in your bed – I should be in my own safe sleep space
Alcohol and drugs can increase the risks in my sleeping environment
Don't leave me in the car seat when I am not travelling
Don't let me sleep in a nest, chair, buggy, swing or beanbag.
Our new resource is a guide which emphasises the importance of keeping baby's airways clear at all times to address preventable sleep accidents.
It also highlights that many of the safe sleep practices are underpinned by the simple message of "Keep baby's airways clear".
The resource comes with a small bendable tube attached which replicates a baby's airway and can be used as a visual demonstration aid when discussing Safe Sleep with others.
We are so pleased to be involved with Children in Scotland's Learning Week so we can reach a wide audience of families and professionals.
If you would like your own free education session about Safe Sleep, these can be booked on our website (click here to visit) alongside lots of useful online resources.
If you have any questions or would like some information posted out, simply email safesleep@scottishcotdeathtrust.org with your details. You can also follow us @cotdeathtrust on Facebook, Twitter and Instagram.